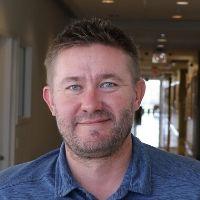 Research Description
My primary area of scholarship at JMU focuses on teaching pedagogy, specifically in human biology. I am interested in the best practices of teaching and learning and developing an interactive and engaging classroom. My teaching interests lie in the fields of anatomy and physiology, especially cardiovascular physiology. I have previously done research investigating gene expression patterns that regulate the development of the mammalian midface using a mouse mutant that displays the characteristics of frontonasal dysplasia.
Education
PhD in Physiology, 2012, University of Hawaii
MS in Physiology, 2008, University of Hawaii
BS in Biology, 2004, University of California, Irvine
Select Publications
Hynd TE, Berkeley EV, Daniel JC, Brown JW, Velayudhan BT. 2019. A rough semester: what's wrong with Katie? [Case Study] Buffalo, NY: National Center for Case Study Teaching in Science, University at Buffalo, State University of New York.
Hynd TE, Buckley CL, Lozanoff S. 2013. Case of cephalothoracopagus conjoined twinning in an embryonic mouse. Birth Defects Res A Clin Mol Teratol. 97(6):421-424.
Sompunpon SJ, Wong B, Hynd TE, Fogelgren B, Lozanoff S. 2011. Osmoregulatory defect in adult mice associated with deficient prenatal expression of six2. Am J Physiol Regul Integr Comp Physiol. 301(3):R682-689.