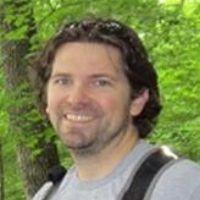 Associate Professor; Associate Director, HHMI Inclusive Excellence Initiative at JMU
Year Started at JMU: 2014
harshja@jmu.edu
Contact Info

Research Description
Dr. Harsh's research focuses on understanding student experiences, performance, and engagement in postsecondary science. In exploring this central theme, his research group is currently working on four projects investigating how course-based and apprenticeship-like undergraduate research experiences benefit students, the development of students' data visualization skills, how students navigate scientific challenges and failure, and the design and implementation of teaching and learning practices that support students of diverse backgrounds.
Courses
BIO150 Foundations of Biology II

BIO600 Effective College Teaching

ISCI173 Life and Environmental Science for Future Teachers
Education
PhD in Science Education, 2014, Indiana University
MS in 

Botany and Plant Pathology, 2003, 

Michigan State University
BS in Biology, 2000, Indiana University
Select Publications
Greenman, N. A., Jurgensen, S. K., Holmes, C. P., 2nd, Kapsak, C. J., Davis, R. E., Maza, W. M., … Herrick, J. B. 2021. Genomics of environmental Salmonella: Engaging students in the microbiology and bioinformatics of foodborne pathogens.

 

Frontiers in Microbiology,

 

12, 592422.
Limeri, L.B., Asif, M.Z., Bridges, B.H., Esparza, D., Tuma, T.T., Sanders, D., Morrison, A.J., Rao, P., Harsh, J.A., Maltese, A.V. and Dolan, E.L., 2019. "Where's My Mentor?!" Characterizing Negative Mentoring Experiences in Undergraduate Life Science Research. CBE—Life Sciences Education, 18(4), p.ar61.
Harsh, J. A., Campillo, M.*, Murray, C., Myers, C.*, Nguyen, J.*, & Maltese, A. V. 2019. "Seeing" Data Like an Expert: An Eye-Tracking Study Using Graphical Data Representations. CBE—Life Sciences Education, 18(3), ar32.
*indicates student co-author