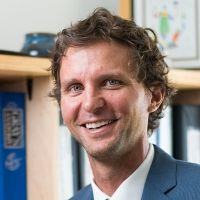 Research Description
Our lab is interested in understanding the mechanisms underlying circuit assembly in developing sensory systems. Of particular interest is how inputs of multisensory origin converge at the level of the midbrain and segregate into distinct processing streams. Ongoing projects explore the plasticity involved in shaping discrete multimodal maps during early critical periods. Knowledge gained from such pursuits will further our understanding of a variety of neurodevelopmental conditions, including autism spectrum and sensory processing disorders.
Courses
Human Anatomy (BIO 290)

Functional Neuroscience for Occupational Therapists (BIO 440/540)

Clinical Anatomy for Occupational Therapists (BIO 414/514)

Human Histology (BIO 482/582)

Advanced Human Anatomy (BIO 410)

Scientific Presentations (BIO 603)
Education
PhD in Neurobiology and Anatomy, 2000, Wake Forest University School of Medicine
BS in Biology, 1995, James Madison University
Select Publications
Brett CA,* Carroll JB,* Gabriele ML. 2022. Compromised fractalkine signaling delays microglial occupancy of emerging modules in the multisensory midbrain. Glia. 70(4):697–711. doi:10.1002/glia.24134.
Stinson JPC,* Brett CA,* Carroll JB,* Gabriele ML. 2021. Registry of compartmental ephrin-B3 guidance patterns with respect to emerging multimodal midbrain maps. Front Neuroanat. 15:649478. doi:10.3389/fnana.2021.649478.
Lamb-Echegaray ID,* Noftz WA,* Stinson JPC,* Gabriele ML. 2019. Shaping of discrete auditory inputs to extramodular zones of the lateral cortex of the inferior colliculus. Brain Struct Funct. 224(9):3353–3371. doi:10.1007/s00429-019-01979-6.
*indicates student co-author