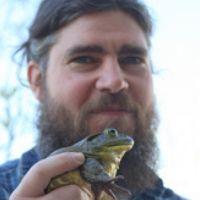 Research Description
I am interested in amphibian ecology and conservation. My research focuses on a rare terrestrial salamander, Plethodon punctatus (Cow Knob salamander). I work with the US Forest Service and other state and federal management agencies on issues related to the ecology and conservation of this and other salamander species.
Education
MS in Ecology, 2004, James Madison University
BS in Ecology, 1999, Longwood College
Select Publications
Flint, W. D., and R. N. Harris. 2005. The efficacy of visual encounter surveys for population monitoring of Plethodon punctatus (Caudata: Plethodontidae). Journal of Herpetology. 39: 578-584.