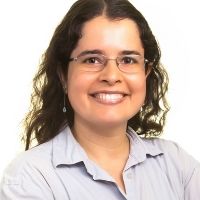 Research Description
I am a cellular and molecular biologist with a passion for the discovery of novel biomarkers and targeted-treatment strategies. My main research interests currently are hematopoietic stress, wound healing and tissue regeneration. Research on my laboratory seeks to (i) understand the role of inflammation as a regulator of osteogenesis and (ii) investigate post-traumatic heterotopic ossification, a condition characterized by the formation of bone in non-skeletal soft tissue, as a model of hematopoietic stress after injury.
Education
PhD in Medical Sciences, 2010, University of Campinas, Campinas, Brazil
MS in Genetics, 2006, Federal University of Pernambuco, Recife, Brazil
BS in Biology, 2003, University of Pernambuco, Recife, Brazil
Select Publications
de Vasconcellos JF, Jackson WM, Dimtchev A, Nesti LJ. A microRNA signature for post-traumatic human heterotopic ossification. J Bone Joint Surg Am. 2020;102(21):1891-1899. doi: 10.2106/JBJS.19.00896.
de Vasconcellos JF, Zicari S, Fernicola SD, Griffin DW, Ji Y, Shin EH, Jones P, Christopherson GT, Bharmal H, Cirino C, Nguyen T, Robertson A, Pellegrini V, Nesti LJ. In vivo model of human post-traumatic heterotopic ossification demonstrates early fibroproliferative signature. J Transl Med. 2019;17(1):248. doi: 10.1186/s12967-019-1996-y.
de Vasconcellos JF, Tumburu L, Byrnes C, Lee YT, Xu PC, Rabel A, Clarke BA, Guydosh NR, Proia RL, Miller JL. IGF2BP1 causes fetal-like hemoglobin expression patterns in cultured human adult erythroblasts. Proc Natl Acad Sci U S A. 2017;114(28):E5664-E5672. doi: 10.1073/pnas.1609552114.