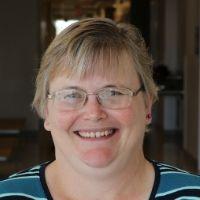 Research Description
While my research background is in plant biology and plant-pathogen interactions, since coming to JMU my scholarship interests have shifted towards curriculum development and student learning. As part of the first-year initiative team, I have worked with other members of the department to develop a new and innovative lab curriculum, where we have successfully deployed a large-scale CURE (Course-embedded Undergraduate Research Experience). I am interested in exploring how participating in a CURE affects student learning.
Education
PhD in Biochemistry and Molecular Biology, 2001, University of California, Davis
BA in Biology, 1993, Macalester College, 

Saint Paul, MN
Select Publications
Hyman, O.J., Doyle, E.A., Harsh, J., Mott, J., Pesce, A., Rasoul, B., Seifert, K., and Enke, R.A. 2019. CURE-all: Large Scale Implementation of Authentic DNA Barcoding Research into First-Year Biology Curriculum. DOI: 10.24918/cs.2019.10.
Hyman OJ, Pesce A, Doyle E, Enke RA. 2018. Intro to DNA Subway Blue Line. Network for Integrating Bioinformatics into Life Sciences Education (NIBLSE) Online Incubator.
Monroe, JD and Doyle, EA. 2015. Laboratory Investigations in Cell and Molecular Biology. Hayden-McNeil Publishing, Plymouth, MI.