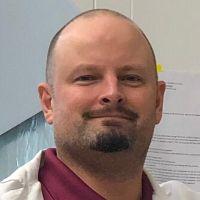 Research Description
Sudden Infant Death Syndrome (SIDS) is a leading cause of post neonatal infant mortality. Abnormal development in serotonin secreting neurons in select brainstem areas may be at the cause. I am interested in exploring how brainstem serotonin helps coordinate cardiovascular and thermoregulatory protective responses to stress. I am also interested in how environmental stress, like hypoxia or thermal stress, affects the body. This has numerous applications for animal care and post-surgical recovery clinically.
Courses
Human Physiology (BIO 270)

Pathophysiology for Physician Assistants (BIO 516 and BIO 517)

Introductory Neuroscience (

BIO301)
Education
PhD in Physiology, 2006, East Carolina University
BS in Biology/Pre-Medicine, 1997, Eastern Mennonite University
Publications
Le, NMP,* Cockburn CL,* Nowell KN,* Brown JW. Activation of GABAA or 5HT1A receptors in the raphé pallidus abolish the cardiovascular responses to exogenous stress in conscious rats. Brain Research Bulletin 86 (2011) 360– 366. DOI:10.1016/j.brainresbull.2011.09.018.
Le NMP,* Brown JW. Effect of Thermopreference on Circadian Thermoregulation in Sprauge-Dawley and Fisher 344 Rats.Journal of Thermal Biology 37 (2012) 309–315. DOI: 10.1016/j.jtherbio.2011.09.006.
Darnall RA, Harris MB, W H Gill, Hoffman JM, Brown JW, Niblock MM. Inhibition of Serotonergic Neurons in the Nucleus Paragigantocellularis Lateralis Disrupts Sleep Architecture and Decreases REM Sleep in the Piglet: Implications for the Sudden Infant Death Syndrome. Journal of Neuroscience 25:8322-8332. 2005.
*indicates JMU undergraduate co-author