The Bioscience building is well equipped for teaching and research with facilities and instrumentation including:
Greenhouse
A state-of-the-art greenhouse facility with lighting, temperature and humidity control. There are separate sections for teaching and research.
Light Microscopy and Imaging Facility
A core light microscopy facility, with several DIC and fluorescence microscopes, a confocal laser scanning microscope, and a dedicated specimen preparation laboratory. Adjacent to it is a 16-seat teaching lab in which every microscope has a digital camera and computer display. This classroom can be reserved for use by any class group.
Anatomy Laboratories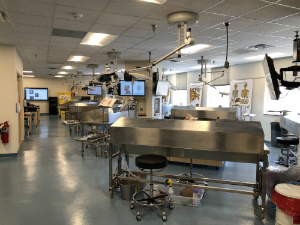 Burruss Hall houses our new state-of-the-art teaching laboratories, located in close proximity to the Health & Behavioral Studies building. Each of our three cadaver-based labs includes a variety of additional learning resources (e.g. models, plastinates, osteology), as well as being equipped with the latest instructional technologies to enable easy access to sectional anatomy, imaging, and other relevant course materials.
Molecular Biology Equipment
The Biology Department has extensive and up-to-date equipment and facilities for research and teaching in molecular biology, DNA sequencing, and genomics/metagenomics. There is also a real-time polymerase chain reaction facility, a nucleic acid visualization facility, and instrumentation for DNA spectrophotometric analysis and quantification. Standard molecular biology equipment includes thermal cyclers, plate readers, spectrophotometers, centrifuges, incubators, -80°C freezers, autoclaves, and fume hoods.


Center for Genome and Metagenome Studies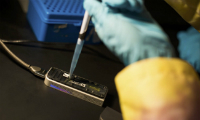 The Center for Genome and Metagenome Studies (CGEMS) supports the DNA Sequencing and genome analysis needs of student and faculty, works with faculty to integrate innovative new genomic and metagenomic laboratories and hands-on modules into existing STEM courses, and supports inter-university collaboration, seminar speakers, and outreach to local schools and colleges. There is a next-generation DNA sequencing facility with an Illumina MiniSeq sequencer, two Oxford Nanopore Minion sequencers, Ion Torrent PGM DNA sequencer, and Qiagen Q24 Pyrosequencer. For data analysis and storage, CGEMS has seven rack-mounted Dell servers.