Assessment and Measurement Program students interview Dr. Sara Finney
Dr. Sara Finney is a Professor in Graduate Psychology and Associate Director of Student Affairs Assessment in the Center for Assessment and Research Studies at James Madison University (JMU). Throughout her time at JMU, Finney has worked with various student affairs programs on student learning outcomes assessment. She engages in research on a variety of topics including examinee motivation in testing and using structural equation modeling to gather validity evidence related to score interpretations. In addition to her research and work with student affairs programs, Finney works with the Educational Testing Service (ETS) and was integral in developing a partnership between JMU and ETS. Recently, doctoral students, Andrea Pope and Courtney Sanders, had the opportunity to speak with Finney about the projects JMU and ETS are working on together.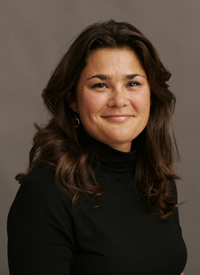 Finney first developed a relationship with ETS four years ago, when she began working on the GRE Technical Advisory Committee (GRE TAC). This committee comprises faculty from across the nation who specialize in psychometrics and quantitative methods. They assess the quality of research and proposed studies centered on the GRE program. Finney now chairs the GRE TAC and has the opportunity to meet with provosts, vice provosts, and deans of graduate schools who are not only interested in admissions, but also outcomes assessment in relation to ETS's tests.
Around the same time that Finney joined the GRE TAC, Dr. Ross Markle and Dr. Javarro Russell assumed leadership positions at ETS. Markle and Russell both graduated from JMU's assessment and measurement doctoral program and are senior research and assessment directors in ETS's Higher Education division. Given the connections between JMU and ETS, Finney and other leaders in the Center for Assessment and Research Studies began thinking about how the two parties could have a richer relationship. Both ETS and JMU have a genuine interest in student learning outcomes assessment and using assessment results to improve learning. This common goal set the stage for JMU's partnership with ETS, which began in 2016.
The partnership is multifaceted and involves faculty, staff, and students at JMU. The relationship between JMU and ETS provided the opportunity for an internship experience, currently held by third-year Assessment and Measurement doctoral student, Kristen Smith. Smith is helping Markle and Russell create user manuals for ETS's HEIghten outcomes assessment tests. These manuals will help test users (such as university faculty and administrators) use the tests and interpret scores appropriately.
In addition to the internship experience, the partnership allows JMU to pilot ETS's assessments on Assessment Day. Finney contends this process is beneficial for both ETS and JMU. That is, JMU has a strong university-wide assessment culture and structured data collection processes that many institutions do not have. Piloting the tests on Assessment Day allows ETS to examine how students perform on the tests and how faculty at JMU are able to use the information from the tests to inform their pedagogy and programs. Piloting the tests also allows JMU to determine if the ETS tests align with JMU's student learning outcomes and if so, it enables JMU to use high quality tests that would typically take faculty years to develop.
Finney stressed that the partnership is a good match. Not only do both parties share the common goal of using results to improve student learning, but each group offers something the other doesn't have. Specifically, ETS has greater outreach and a larger staff to create quality measures. Conversely, JMU has "on the ground" assessment experience and faculty who are eager to make evidence-based decisions about their programs. As Finney stated, "The partnership isn't about doing more. It's about doing the same things [we've been] doing, but with the right people. And ETS are the right people."
In addition to her assessment work and her role with ETS, Finney trains many graduate students to work as measurement and assessment professionals. She stressed two important skills that students should have upon completing the graduate program. First, Finney emphasized the importance of listening to clients and having the ability to reframe or synthesize information in a coherent manner. She contends the best way for students to learn these skills is by watching others who are skilled in communicating and explaining concepts clearly and effectively. Second, Finney underscored the importance of bringing knowledge and skills learned in graduate school together. She claims that graduates who are most effective are able to integrate across concepts and apply them to complicated problems. Finney advises that current students make flow charts and diagrams if necessary to help them make connections. Furthermore, students should not be afraid to ask their professors to help make those connections in class. Finally, she emphasized that students should not compare themselves to one another and they should take the time they need to learn as much as they can while they are in graduate school. This advice resonated with Pope and Sanders as they continue in their graduate studies. 
See the associated interview with ETS's Dr. Ross Markle and Dr. Javarro Russell.