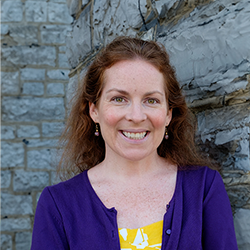 Western US (select states), Florida, Texas, Washington D.C., Tidewater Virginia (select schools), all US territories and schools abroad
conleyem@jmu.edu
Contact Info

Regions:
Virginia: Students attending a private or home school located in the Hampton Roads metropolitan area and the Eastern Shore as well as students attending public schools in the following counties/cities: Accomack, Gloucester, Hampton, Matthews, Northampton, Poquoson, Smithfield, Williamsburg/James City and York. 
Not sure if this includes your school? Click here to find out for sure!
Out of State: Alaska, California, Florida, Hawaii, Nevada, Oregon, Texas, Washington, Washington D.C.; U.S. territories (American Samoa, Guam, Northern Mariana Islands, Puerto Rico & USVI); all students attending a school located outside of the US
Education: Bachelor of Science from JMU in Communication Studies with a concentration on public relations; Human Resource Development Minor
Hometown: Agana Heights, Guam and Hampton, VA
Advice to Students: Ask questions! Talk to your teachers about how they decided where to study. Ask older friends or family members how they picked their majors. Reach out to faculty members at the schools you are considering to see what makes the student experience in their departments different. Attend the virtual programming that individual schools and organizations are offering to learn as much as you can about your different options.  And of course, reach out to college and university reps!  We miss getting to see you at your school or on our campus and we want to help you find out if our school is a good fit for you. We can also help connect you with resources on our campus to learn even more.
---
Join the Conversation
on JMYou
Check out our social media platform just for prospective JMU students. Sign Up and Follow Me on JMYou.
---