Science is changing more rapidly than ever. At JMU, we care about giving our students what they need to stay ahead and succeed.
Our innovative science programs may be your ticket to success.
You get hands-on experience learning science and technology in collaboration with highly talented professors. Our students do research and have many opportunities to present their findings. Employers praise our graduates for their skill at working as part of a cohesive team. We have an impressive array of research equipment available to our undergraduate students.
We know that the big issues facing our world - energy, biotechnology, the environment - often fall outside the confines of traditional academic disciplines. That's one reason we foster rich collaboration among students and professors from many different disciplines.
Think of our undergrad research benefits: Hands-on work with cutting-edge equipment that most schools reserve for doctoral students. Individual attention from well-connected professors who care about guiding your progress.
Highlights
What does this mean to you?
If you come here and take advantage of all we have to offer, you will gain skills and knowledge that will prepare you to help tackle the big challenges facing humankind.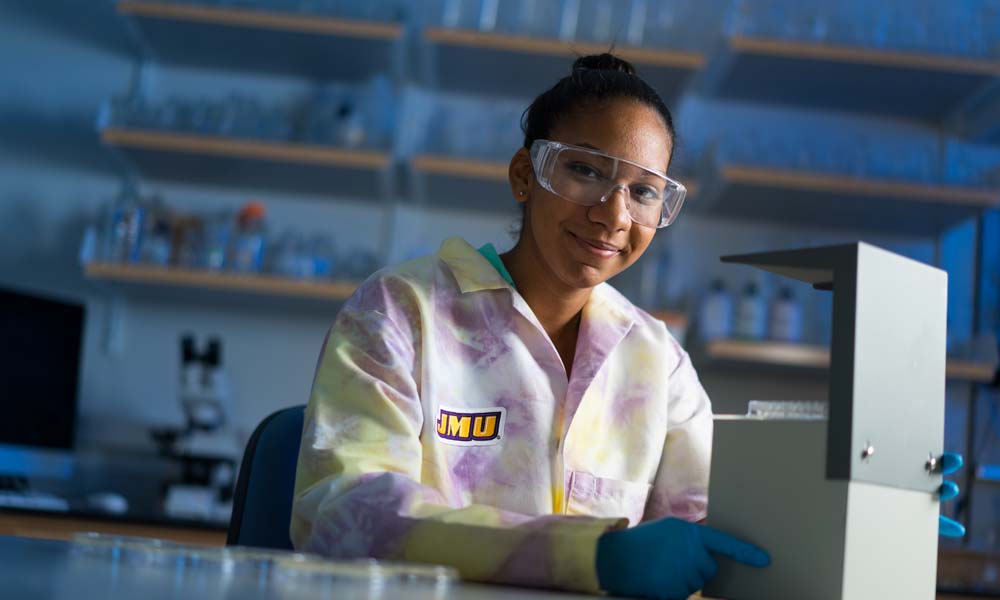 'JMU has been great. I have made a lot of friends and I have grown so much as a person — being more independent and figuring out so many things for myself. I would definitely recommend JMU.'
— Jesmine Roberts-Torres ('16), biology major