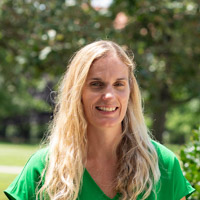 Dr. Hollie Hall is the Dean of Students at James Madison University. She earned her Doctorate in Executive Leadership from St. John Fisher College in 2018 and her research focused on treatment strategies for college students struggling with anxiety. She graduated from Alfred University in 2004 with a Master's in Counseling Education and earned her bachelor's degree from SUNY Brockport in 2000 with a double major in Health Science and Psychology
Hollie has served college students in various positions in Student Affairs and has also been an adjunct professor for both undergraduate and graduate students. A mental health counselor by trade, she values the importance of building relationships that are genuine. Hollie identifies her leadership style as transformational; she is always striving to inspire positive change for everyone she meets and is driven to have a positive impact on any system or community she is a part of.
In her spare time Hollie loves travelling, seeing the world through her young son's eyes, and spending time with the people she loves.