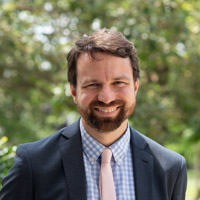 Dr. Myles Surrett serves as the Associate Vice President for Career, Experiential Learning, and Transitions. He earned his undergraduate degree from Furman University and completed his Master's work at the George Washington University. Dr. Surrett earned his Ph.D from Clemson University and his research centered on morale in student affairs and professional myth making. Previously in higher education, he worked at Clemson University and the George Washington University. At those institutions, Dr. Surrett worked in a range of capacities including student leadership, orientation, student involvement, student staff training, student conduct, and outdoor education. Prior to working in a collegiate setting, he worked in the non-profit space, specifically holding roles with Greater Birmingham Habitat for Humanity and The Close-Up Foundation.
Dr. Surrett has contributed extensively to the dialogue around student affairs as a profession. He founded podcast series for both NASPA and SACSA and has served in leadership capacities with both organizations. He has also presented at NASPA, SACSA, AORE, the Maryland Student Services Conference, and the NASPA South Carolina Conference. He is licensed to facilitate the Intercultural Development Inventory and conduct low ropes course facilitations.
Dr. Surrett believes in the transformative power of a college education and works daily to make that possible for all students.