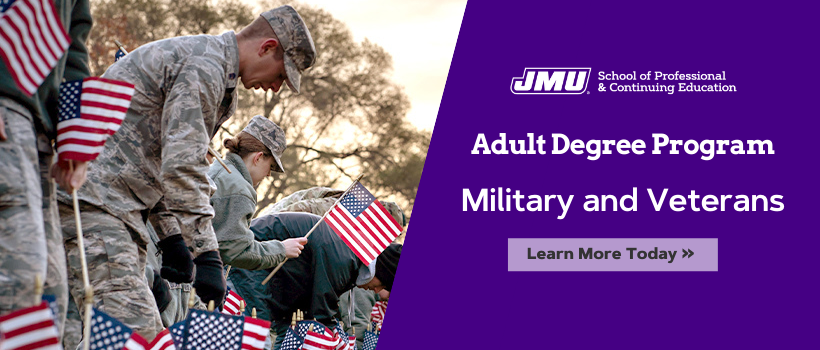 Adult Degree Program for Military and Veterans
James Madison University takes pride in fostering an environment that meets the unique needs of active-duty military personnel and veterans. We provide support, mentorship, and services designed to help you achieve your degree; whether you plan to advance your military career or position yourself for success as you transition to civilian life. We also offer a range of services for spouses and dependents of military personnel and veterans.

Your experiences and skills you gained during your military service combined with a degree from our Adult Degree Program, can enhance your career and make you an attractive candidate in today's competitive job market.

At JMU, you can turn your prior experiences and training into college credit, so you can graduate sooner. This is just one of the many benefits James Madison University offers.
How to Get Started at James Madison University
Additional Resources
Governor Ralph Northam announced plans to invest an additional $1 million a year to support tuition assistance for Virginia National Guard. 
JMU provides a mechanism for evaluating and awarding credit for prior experience from military service through the CLEP, DSST exam, individualized portfolio evaluation, and more.
JMU has established the Veteran Scholars Task Force, made up of over 30 faculty, staff, and students, each of whom provides insight into the unique needs of student veterans.
For more information about our benefits for active-duty, veterans, spouses, and dependents can be found on our JMU Veterans homepage.
Awards and Affiliations
JMU is a participant in the Yellow Ribbon Program. The Yellow Ribbon Program can help eligible students pay for higher out-of-state, private school, or graduate school tuition that the Post-9/11 doesn't cover. Contact veteran@jmu.edu to see if you are eligible.
Military Friendly School
The Military Friendly® Schools survey is the longest-running most comprehensive review of college and university investments in serving military and veteran students.