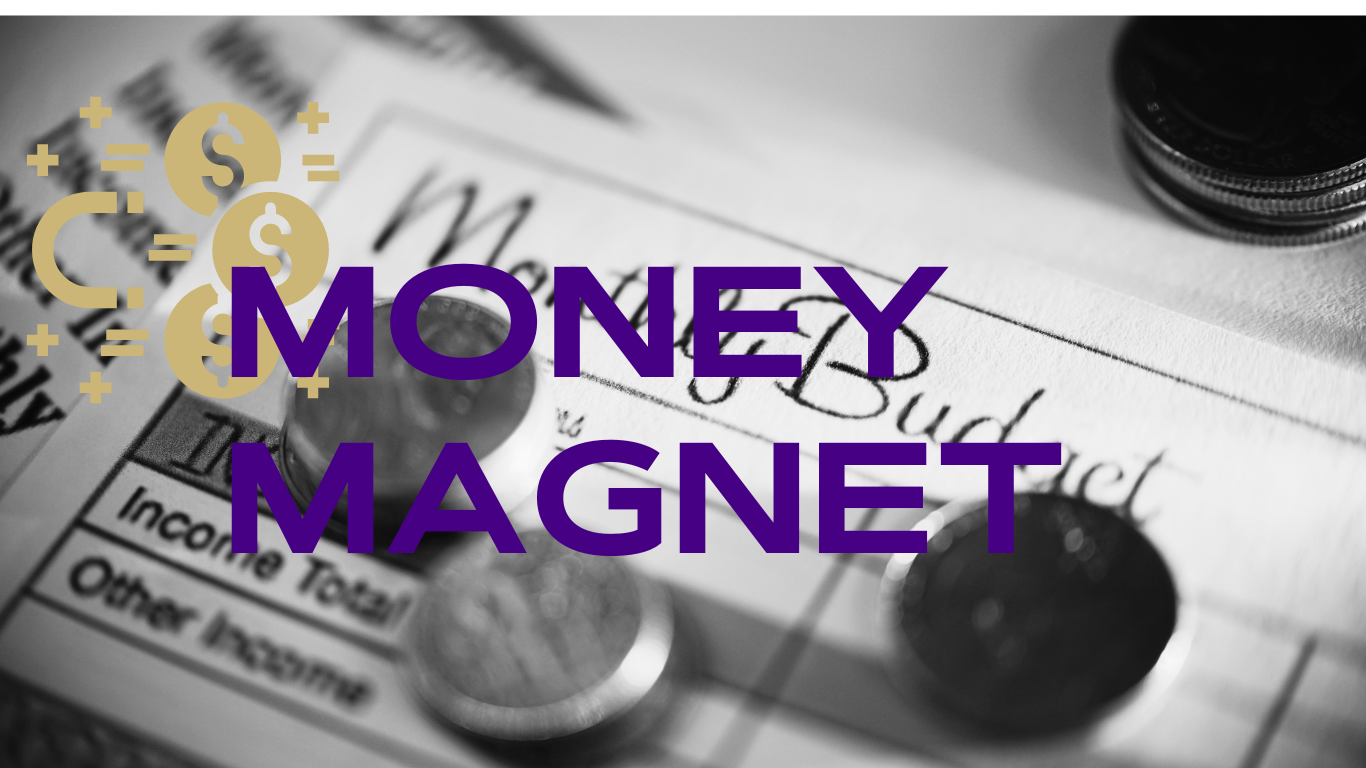 Financial Literacy
Off-Campus Life's Money Magnet Financial Literacy Program assists students in gaining the necessary knowledge and skills to make well-informed and contemplative monetary decisions that impact their daily lives. From budgeting for food, fashion, and fun with friends the financial literacy program assists students in learning how to plan and execute projects with a spending plan while propelling them to become a Madison Money Magnet. This program helps guide students to develop their own strategies for their specific needs and aspirations for now and in the future.
We host financial literacy workshops several times throughout the academic year. These events are designed to give students who currently live or are preparing to live off-campus the tools to manage expenses such as rent, utilities, groceries, and transportation. Learn spending strategies, debt management, saving tips, how to be a "money magnet," and align your values with your finances!
2022-2023 Workshop Dates:
Money Matters for Graduating Students with Brad Barnett | March 7, 2023, in Taylor 405 @ 6:00 pm: Join OCL on March 7th featuring Brad Barnett, Director of Financial Aid and Scholarships, presenting Money Matters for Graduating Students as he leads an open forum on personal finances with a tailored focus on what you need when graduating to your professional life. 
How to Destroy Distraction and Anxiety and Wildly Succeed at Work and in Life with Pete Hardesty | March 27, 2023, in Union Ballroom @ 8:00 pm: OCL welcomes back Pete Hardesty, co-author of two Amazon #1 bestsellers, Adulting 101 Books 1 and 2, presents How to Destroy Distraction and Anxiety and Wildly Succeed at Work and in Life! Pete shares his journey with anxiety and distraction as you nervously laugh together while also describing some unexpected, proven strategies from top mental health professionals.
Food & Finance with Meredith Bauer | March 28, 2023, in Taylor 306 @ 5:00 pm: OCL is pleased to present Food & Finance! Meet Pastry Chef turned Student Life Fiscal Manager Meredith Bauer who shares her love for food and finance! Combining her degrees in Baking and Pastry as well as accounting and finance, Meredith provides her expertise in food and finance to help you get the most out of your grocery shopping experience as well as the best tips and tricks for everything from meal prep and food storage to eating out.
Investing 101 with Kennedy Musyoka | April 6, 2023, in Festival Allegheny Room @ 7:00 pm: Investing 101 is here! Introducing Kennedy Musyoka! Kennedy shares his knowledge of the basics of investing. With a background in economics, master's degree in Strategic Management, and passion for teaching BUS 160 while in the PhD Strategic Leadership program on campus, Kennedy provides a unique international perspective on investments strategy. 
"A Humorous Guide to Financial Freedom" with Colin Ryan | April 11, 2023, Grafton-Stovall @ 7:00 pm: OCL Welcomes back Colin Ryan to present "A Humorous Guide to Financial Freedom." Colin believes that your ability to handle your finances directly affects your ability to have the life you want. So, what do you want your money story to look like? Colin Ryan uses humor, storytelling, and interactivity to teach what you need to know about building wealth & managing money as a college student. You'll learn the knowledge and skills you need, plus how to find your experts and define the vision for your big life.
Students can schedule one-on-one consultations with our Graduate Assistant for Financial Literacy, Melanie Hubbard, to talk through their finances and spending in a safe, supportive space.
Details on how to schedule coming soon!
Content coming soon including:
Spending strategies
Spending plans
Credit & debt
Income taxes
Transportation
Investing (in yourself)

Homeownership: pros & cons of renting/purchasing a home, efficient steps to purchase your first home
Stocks, Bonds, IRAs, Roth IRAs, Money Markets, Savings
Investing & retirement as a subscription service for yourself
Increasing Income: Businesses/side hustles, Continuing education (seminars, books, certifications, formal education i.e. graduate school & assistantships)
The Pantry
The Pantry is a joint effort on campus, supported by the Basic Needs Advisory Board, co-chaired by Off-Campus Life and Community Service-Learning staff, and university and Harrisonburg community partners. The Blue Ridge Area Food Bank ensures we have a consistent supply of quality, nutritious food options. The Pantry is stocked with shelf-stable goods, some hygiene products, a limited selection of fresh produce from JMU Dining Services each week, as well as fresh bread.
Food Planning & Costs
Content coming soon including:
Cost Comparisons: JMU meal plans, grocery store prices, etc.
"When times are tough"
The cost of prepared food
Dining out
Food subscriptions
Food Prep
Content coming soon including:
One-pot meals
Healthy foods at home
Shop Your Closet
Content coming soon!
Shop JMU Career Closet
Shop a curated selection of work attire for your next interview or career fair for FREE! Hosted and organized by the University Career Center and The Pantry, the JMU Career Closet is a clothing and accessory resource for all JMU students, with a specific focus on work and interview attire. This is a donation-based resource, and students are welcome to take one complete outfit from the closet free of charge. Students may choose five free pieces each semester!
Location: SSC 3rd floor, suite 3250
Times: Thursday & Friday from 11:30 a.m.-2:30 pm during the academic year
Shop Thrift Stores
Shop Economically
Content coming soon!
Content coming soon including:
Financial tips
Helpful links
Video content