Off-Campus Life (OCL) is committed to help students thrive in their off-campus communities. Part of our focus in these efforts is supporting students' basic needs, specifically when it comes to housing and food insecurity.
Open Hours:
Monday: 12-6PM
Tuesday-Thursday: 12-5PM
The Pantry is located in Taylor Down Under 112, in The Union! 
Curbside and Rapid Pick-Up: Our staff at Off Campus Life is very excited to offer Online Orders through The Pantry app, now available in the Apple and Android stores. You can find them by searching "JMU Pantry," or click the links above. You can elect a curbside pickup option or a rapid pickup option in The Pantry itself. Details on order pickups can be found in the FAQ section of the app.
The Pantry is a joint effort on campus, with support coming from the newly formed Basic Needs Advisory Board, which is co-chaired by Off-Campus Life and Community Service-Learning staff, and has representation from across the university and Harrisonburg community. We have partnered with the Blue Ridge Area Food Bank to ensure a consistent supply of quality options. The pantry has started largely with shelf-stable goods, some hygiene products, and limited fresh produce. Options will grow and expand as we better understand the needs of our community.
The Pantry is currently accepting donation for hygiene products and basic school supplies. To arrange a drop off of donated supplies, please email us at pantry@jmu.edu or call 540-568-6071. Additionally, we welcome food items that have been requested but are not currently available through the food bank, including: oils and vinegars, spices and herbs, basic baking items, and shelf-stable (non refrigerated) soy and almond milk.
This project is generously funded by donations from alumni and community friends. Donations can be made here. We also want to recognize JMU Dining Services for partnering with us in this service to students, providing fresh fruit for the pantry each week.
The pantry is opened to all JMU students. No questions asked.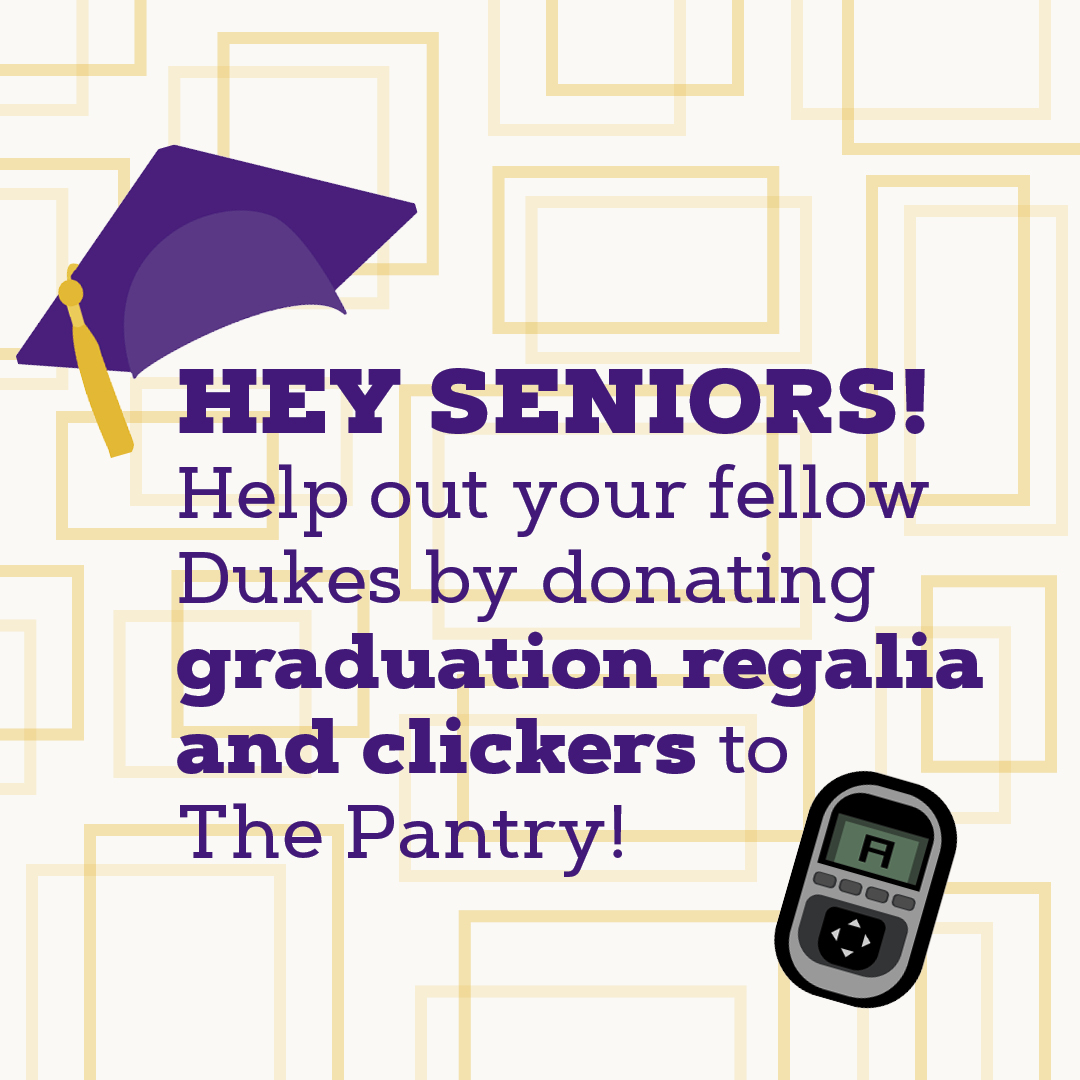 The Pantry is also accepting donations of graduation regalia and clickers. These items can be dropped off at The Pantry during open hours or mailed to Off-Campus Life at:
JMU Off-Campus Life
The Unions, MSC 4214
170 Bluestone Drive
Harrisonburg, VA 22807
The JMU Career Closet is an additional resource available the the JMU student community. This is a free resources from students, made possible by generous donations of new or gently used professional and interview attire, from our community. Please check the Career Closet site for information on when the pop-up shops will occur each semester.
Additionally, there is a student-driven initiative in partnership with Canterbury Episcopal Campus Ministry, called SHELF'D (Students Helping Every Last Fellow Duke). This resource is located just off campus, at 741 South Main Street. Tucked away on the back porch of Canterbury Episcopal Campus Ministry, SHELF'D strives to offer a stigma-free gateway to nutrition for anyone who feels they do not have enough nutritional food to eat. If you are hungry, you are welcome. No exceptions, no questions asked.