Campus Resources
The Pantry is a food+ pantry that is open to all JMU students, no questions asked. 
There are 2 locations for The Pantry:
Taylor Down Under, room 112 in The Union 

Mini Pantry in EnGeo 0302 near the Pods 
Taylor Down Under (TDU) room 112, in the Union 
Open Mon 12-6p & Tues-Thurs 12-5p
You have 2 options to get items. You can either:  
Walk into The Pantry when it's open to select your items

OR 

Place an order through the app for either curbside pickup or a rapid pick-up in The Pantry. Download the free app, search for "JMU Pantry" from your app store. 
The Pantry in TDU has the most variety of items with non-perishable items, produce, donated Panera bread, hygiene items, a safer sex center, and more!   
Mini Pantry on east campus, EnGeo 0302 (near the P.O.D)
Open Mon, Wed, and Fri 12-5p
 Walk into the Mini Pantry when it's open to select your items
The Mini Pantry on east campus has non-perishable items only. 
---
What to expect when you walk in:
Select your items from the shelves/fridge and put them in a bag

Weigh your bag (we record how many pounds are leaving The Pantry)

That's it! 
What to expect when you place an online order for curbside pickup: 
Make sure to place your order by 10AM on the day of pickup to allow our staff enough time to prepare your order. 

Please endeavor to pick up your order within the half-hour time slot selected. If you cannot make your selected time, email pantry@jmu.edu or call 540-568-6071 to let us know.

Pull into the lower (faculty/staff) level of the Grace Street Parking Deck (258 E. Grace St, Harrisonburg VA 22807). At the end closest to Dukes Dining is a designated parking spot for The Pantry - look for the purple sign!

Once you've arrived, call our office at 540-568-6071 and allow 5 minutes for our pantry worker to run the order out to your vehicle. 
---
Where does the food come from? 
The Pantry is a joint effort on campus, with support coming from the newly formed Basic Needs Advisory Board, which has representation from across the university and Harrisonburg community. We have partnered with the Blue Ridge Area Food Bank to ensure a consistent supply of quality options. The pantry has started largely with shelf-stable goods, some hygiene products, and limited fresh produce. Options will grow and expand as we better understand the needs of our community. This project is generously funded by donations from alumni and community friends. Donations can be made here. We also want to recognize JMU Dining Services for partnering with us in this service to students, providing fresh fruit for the pantry each week.
How can I help The Pantry? 
The Pantry is currently accepting donations for hygiene products and basic school supplies. To arrange a drop off of donated supplies, please email us at pantry@jmu.edu or call 540-568-6071. Additionally, we welcome food items that have been requested but are not currently available through the food bank, including: oils and vinegars, spices and herbs, basic baking items, and shelf-stable (non refrigerated) soy and almond milk. You can download a flyer of the most requested items.
You can also make a donation to the Pantry or purchase items from our Amazon Wish List.  
Please read this carefully. 
JMU Dining Services has partnered with The Pantry and provided meal vouchers to distribute to food insecure students that need to eat a meal at a campus dining facility. Food Insecurity means that your access to adequate food for active, healthy living is limited by lack of money and other resources. The Pantry prioritizes requests from students who lack access to food preparation and storage and are experiencing high levels of food insecurity. 
For the 2023-2024 academic year, students can request meal vouchers one time per semester. The number of vouchers that can be provided may change, as needs and supplies fluctuate. Meal vouchers are a limited resource. Please carefully consider your situation before applying to ensure that this resource is going to students with the greatest needs. 
Some indicators of food insecurity include: 
You worried food would run out
The food you bought did not last
You could not afford a balanced meal
You cut the size of meal or skipped a meal
You ate less than you felt you should
You were hungry but did not eat
You lost weight from not eating 
You did not eat for a whole day 
If you need a voucher becuase you are experiencing food insecurity, complete this Meal Voucher Request Form and someone from The Pantry will contact you regarding your request. Students can request vouchers one time per semester. Not all students who request meal vouchers will receive them due to the limited supply of vouchers. 
Additionally, we encourage students to utilize The Pantry to provide a more consistent supply of food.   
There are microwaves available for student use in the following areas of campus: 
The Kitchen in the lower level of Festival 
Taylor Down Under (TDU)
Near the Bistro (patio side) in Student Success Center
Lower Level EnGeo (in vending area)
The Kitchen by OCL in The Union (4th floor Warren side next to room 419)
UREC (in vending area)
Memorial Hall-Corner Bistro

Lower D-Hall (in corner of the dining area by Steak 'n Shake)

Toasters available for use in The POD in EnGeo (when open) 
Community Resources
The JMU Canterbury Episcopal Campus Ministry has a grab and go food pantry, SHELF'D, available to all JMU students. 
Canterbury says that "SHELF'D strives to offer a stigma-free gateway to nutrition for anyone who feels they do not have enough nutritional food to eat. If you are hungry, you are welcome. No exceptions, no questions asked."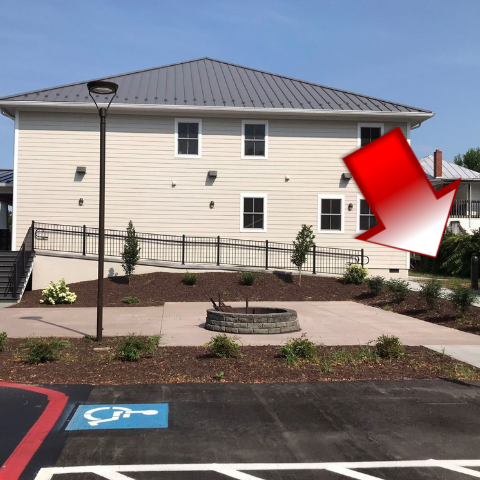 To access SHELF'D, go to the back of the building. Take the sidewalk down the right side of the building and access the pantry through the second door that is always open. 
The pantry is located at the Canterbury House which is located at 622 S. Main St. It's not far from the Student Success Center. If you're heading downtown it's the third building on the right from the corner of S. Main and Martin Luther King Jr. Way. It is gray and has a large wraparound porch. 
There are many community resources that can help provide groceries or a meal. You can use the Food Finder created by Blue Ridge Area Food Bank (BRAFB) to help find a pantry or other resources. 
Food Finder is limited to the areas that BRAFB serves. If you live elsewhere and are searching for food, you can visit Feeding America or  Food Pantries.org for assistance.
It is highly recommended that before you visit any community agency that you verify their hours of operation and find out what their process is like by visiting that agency's website or calling them to ensure a successful visit. 
SNAP provides food assistance to qualified participants. Each month funds are loaded onto an Electronic Benefits Transfer (EBT) card. These funds allow them to purchase food at grocery stores and other food retailers. 
In 2021 Congress passed an act to temporarily expand the requirements for college students to qualify for SNAP. Students who qualify for a Federal Work Study award (regardless of if they are using their FWS award) qualify for SNAP. Additionally, a student that has a Zero Expected Family Contribution is eligible for SNAP benefits. 
For more information on the SNAP program and how to apply, check out Virginia CommonHelp
If you are interested in applying for SNAP, we encourage you to connect with Financial Aid and Scholarships at JMU to be informed about potential benefits of SNAP in regards to your financial awards.