Transfer Summer Springboard
This program was designed to get you ready for your arrival on campus in August. See the recordings on this page to review the materials covered.
Students joined other new transfer students to:
Meet their academic advisor
Get the inside scoop from TOPAs
Prepare for their new life at JMU
Family members and guests:
Discovered more about student services
Received answers to key questions
Springboard Recordings
University Welcome
Campus administrators will officially welcome you to the JMU community by offering a special message to prepare you for your JMU learning experience.
Academic Success
Learn more about expectations, General Education, transfer credits and ways to succeed academically.
Getting Around JMU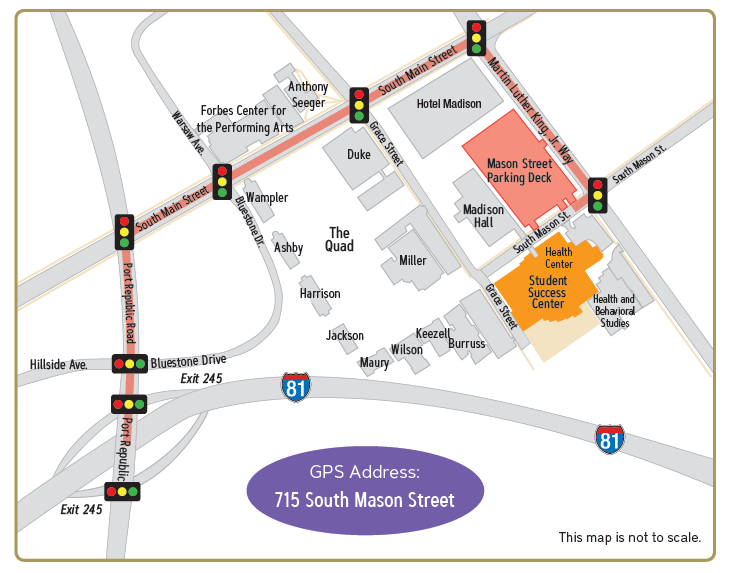 General and accessible parking will be in the Mason Street Parking Deck on levels 3-5. Be sure to avoid parking in reserved Hotel Madison and metered parking spaces, indicated by signage. From Interstate 81, take Exit 245 (Port Republic Road). Take Port Republic Road to South Main Street and turn right. Proceed to the third light and make a right onto Martin Luther King, Jr. Way. Proceed to the first light and make a right onto South Mason Street. The entrance to the parking deck will be on your immediate right. Yellow Orientation signs will help direct you to the Mason Street Parking Deck, once you exit Interstate 81.
Student and family check-in will take place inside the Student Success Center. Orientation staff, wearing purple shirts, will direct you to check-in.
Hotels and Accommodations
Hotel Madison, the official hotel of JMU, is located next to where you will check in for Springboard and within walking distance to downtown Harrisonburg.
Receive a discount using the link below!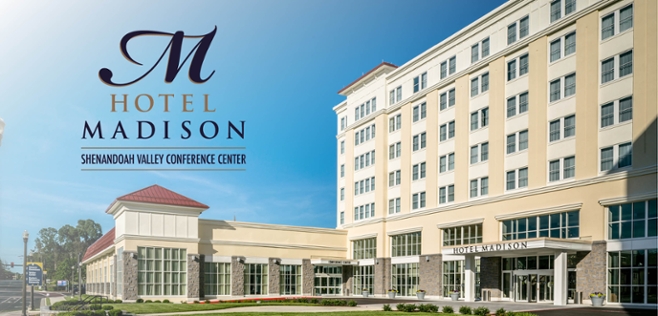 Discount List for JMU Orientation
Note: When making hotel reservations, be sure to inform the reservation agent that you are attending JMU Orientation to receive these special discounted rates. Hotel stays are not required, but we provide this list for those who may want to arrive the day before their assigned orientation date or stay later than their assigned date.
Featured Discounts
10% off
Ramada Inn
Red Roof Inn
Village Inn
Name
Miles to JMU
Phone
Type
Address

1 Tribe Farm

17.8
540-300-7457
Other

877 Todd Road
Mount Sidney, VA 24467

Affordable Corporate Suites

3.5
540-432-7992
Hotel

20 Pleasant Hill Road
Harrisonburg, VA 22801

Afton Mountain B&B

46.1
540-456-6844
Bed and Breakfast

10273 Rockfish Valley Highway
Afton, VA 22920

Allstar Lodging

9
540-843-0606
Other

Luray, VA 22835
(Cabin Rentals)

Apple Orchard Farm B&B

8.4
540-828-2126
Bed and Breakfast

4478 Donnelley Drive
Bridgewater, VA 22812

Belle Hearth B&B

26
540-922-1567
Bed and Breakfast

320 S. Wayne Ave.
Waynesboro, VA 22980

Belle Meade Red Carpet Inn

2.8
540-434-6704
Inn

3210 South Main Street
Harrisonburg, VA 22801

Berkeley House B&B

27.1
540-480-6706
Bed and Breakfast

303 Berkeley Place
Staunton, VA 24401

Best Western: Harrisonburg

1.4
540-433-6089
Hotel

45 Burgess Road
Harrisonburg, VA 22801

Best Western: Staunton

23.5
540-885-1112
Hotel

92 Rowe Road
Staunton, VA 24401

Best Western Plus

2.9
540-433-9999
Hotel

3325 S Main St
Harrisonburg, VA 22801

Best Western Plus: Waynesboro

34.5
540-942-1100
Hotel

109 Apple Tree Lane
Waynesboro, VA 22980

Big Meadows Lodge

37.5
877-847-1919
Other

Skyline Dr Mile 51
Shenandoah National Park, VA 22851

Blackburn Inn, The

27
540-712-0601
Inn

301 Greenville Avenue
Staunton, VA 24401

Blue Ridge Inn

19
540-740-4136
Inn

2251 Old Valley Pike
New Market, VA 22844

BoutiqueAir Cottage

25
434-227-2409
Other

1703 Dogwood Rd.
Staunton, VA 24401

Bridgewater Inn and Cottage

1
540-828-4619
Inn

104 W. College Street
Bridgewater, VA

Bryce Resort

40.6
540-856-2121
Hotel

1982 Fairway Drive
Basye, VA 22810

Budget Inn

.7
540-434-3687
Hotel

687 East Market St
Harrisonburg, VA 22801

Burketown B&B

9
540-234-9913
Bed and Breakfast

14 Old Burke Mill Rd.
Weyers Cave, VA 24486

By the Side of the Road

.7
540-801-0430
Inn

491 Garbers Church Road
Harrisonburg, VA 22801

Candlewood Suites

1.75
540-437-1400
Hotel

1560 Country Club Road
Harrisonburg, VA 22801

Cardinal Inn

35
540-743-5010
Inn

1005 East Main Street
Luray, VA 22835

Cave Hill Farm B&B

10
540-289-7441
Bed and Breakfast

9875 Cave Hill Road
McGaheysville, VA 22840

Clarion Pointe: Harrisonburg

1.3
540-217-4550
Hotel

1440 E. Market St.
Harrisonburg, VA 22801

Clear Spring Homestead

6
540-879-2360
Bed and Breakfast

5603 West Dry River Rd.
Dayton, VA 22821

Comfort Inn: Harrisonburg

2.4
540-534-0060
Hotel

262 Neff Avenue
Harrisonburg, VA 22801

Comfort Inn: Staunton

23
540-886-5000
Hotel

1302 Richmond Avenue
Staunton, VA 24401

Comfort Inn: Waynesboro

34.1
540-932-3060
Hotel

15 Windigrove Dr
Waynesboro, VA 22980

Comfort Inn: Woodstock

35
540-459-7600
Hotel

1011 Motel Drive
Woodstock, VA 22664

Country Inns and Suites

2.9
540-433-2400
Inn
27 Covenant Drive
Harrisonburg, VA 22801

Courtyard Marriott

1.7
540-432-3031
Hotel
1890 Evelyn Bird Avenue
Harrisonburg, VA 22801

Days Inn: Harrisonburg

1.7
540-433-2576
Motel
1703 East Market Street
Harrisonburg, VA 22801

Days Inn: Lexington

55.5
540-463-9131
Inn

2809 North Lee Highway 
Lexington, VA 24450

Days Inn: Luray

26.5
540-743-4521
Inn

138 Whispering Hill Road
Luray, VA 22835

Days Inn: New Market

18.6
540-740-4100
Inn

9360 George Collin Parkway
New Market, VA 22844

Days Inn: Staunton - North

21
540-248-0888
Inn

273 Bells Lane
Staunton, VA 24401

Days Inn: Staunton - South

22.5
540-337-3031
Inn

372 White Hill Road
Staunton, VA 24401

Days Inn: Waynesboro

26
540-943-1101
Inn

2060 Rosser Avenue
Waynesboro, VA 22980

DoubleTree by Hilton

1.2
540-433-2521
Inn
1400 East Market Street
Harrisonburg, VA 22801

DoubleTree by Hilton Harrisonburg

2.3
540-433-2521
Hotel

1400 East Market Street




Dry River Cabin

10
540-550-8488
Hotel

12304 Upper Rawley Trail
Hinton, VA 22831

Privately owned single cabin rental

Econo Lodge: Staunton

23
540-885-5158
Motel
1031 Richmond Ave.
Staunton, VA 24401

Economy Inn

1.2
540-434-5301
Hotel

3467 N Valley Pike
Harrisonburg, VA 22802

Fairfield Inn and Suites by Marriott

.5
540-433-9333
Hotel
1946 Medical Avenue
Harrisonburg, VA 22801

Fairfield Inn by Marriott: Staunton

24
540-213-4100
Hotel
114 Crossing Way
Staunton, VA 24401

Farmhouse at Veritas, The

42.7
540-456-8100
Bed and Breakfast

72 Saddleback Farm
Afton, VA 22920

Frederick House

24
540-885-4220
Hotel

28 North New Street
Staunton, VA 24401

Friendly City Inn

1.1
540-433-8233
Bed and Breakfast

547 E Market St, Harrisonburg, VA 22801

Grandma's Cottage B&B

10
540-249-8113
Bed and Breakfast

8570 Main Street
Port Republic, VA 24471

Hampton Inn: Harrisonburg

1.6
540-432-1111
Inn
85 University Boulevard
Harrisonburg, VA 22801


Hampton Inn: South Harrisonburg

3.1
540-473-0090
Inn
43 Covenant Drive
Harrisonburg, VA 22801


Hampton Inn: Staunton

24
540-886-7000
Inn
40 Payne Lane
Staunton, VA 24401


Hampton Inn: Waynesboro / Stuarts Draft

30
540-213-9500
Inn
15 Four Square Lane
Fishersville, VA 22939


Hampton Inn: Woodstock

35
540-459-7111
Inn
1150 Motel Drive
Woodstock, VA 22664


Harrisonburg/Shenandoah Valley KOA

12
540-896-8929
Hotel

12480 Mountain Valley Rd.
Broadway, VA 22815

Camp grounds




Hearth-N-Holly Inn B&B

5
540-434-6766
Bed and Breakfast

46 Song Bird Lane
Penn Laird, VA 22846

High Laurel Inn

18
540-249-3936
Inn
51 Horsehead Road
Grottoes, VA 24441

Hillside Motel

32
800-366-0559
Motel

1460 US Highway 211 E
Luray, VA 22835

Holiday Inn: Staunton

24
540-248-6020
Inn
152 Fairway Lane
Staunton, VA 24401

Holiday Inn Express

1.9
540-750-4441
Hotel

196 Burgess Road
Harrisonburg, VA 22801

Holiday Inn Express: Lexington

53
540-463-7351
Inn
880 North Lee Hwy
Lexington, VA 24450

Holiday Inn Express: Waynesboro

34.5
540-932-7170
Inn

20 Windigrove Dr


Waynesboro, VA 22980

Holiday Inn Express: Woodstock / Shenandoah

36
540-459-5000
Inn
1130 Motel Drive
Woodstock, VA 22664

Hotel 24 South

26
540-885-4848
Hotel

24 South Market Street
Staunton, VA 24401

Hotel Madison & Shenandoah Valley Conference Center

.0
540-564-0200
Hotel
710 South Main Street
Harrisonburg, VA 22801

Howard Johnson

1.5
540-433-6939
Motel
10 Linda Lane
Harrisonburg, VA 22802


Howard Johnson Express: Staunton

22.6
540-866-5330
Inn

268 N. Central Avenue
Staunton, VA 24401

Hyatt Place Harrisonburg

2.1
540-417-1234
Hotel

1884 Evelyn Byrd Avenue
Harrisonburg, VA 22801

Inn at Lost River

45
304-897-7000
Inn

7015 State Road 259
Lost River, WV 26810

Inn at Sugar Hollow Farm, The

56.9
434-260-7234
Bed and Breakfast

6051 Sugar Hollow Rd
Crozet, VA 22932

Iris Inn

36
540-943-1991
Inn

191 Chinquapin Drive
Waynesboro, VA 22980

Jacob Swartz House

18
540-740-9208
Inn

574 Jiggady Road
New Market, VA 22844

Joshua Wilton House

.3
540-434-4464
Bed and Breakfast
412 South Main Street
Harrisonburg, VA 22801

Lady Rockingham B&B

16
540-298-1611
Bed and Breakfast

403 E. Rockingham Street
Elkton, VA 22827

Lafayette Inn & Restaurant

23.6
434-985-6345
Inn

146 East Main Street
Stanardsville, VA 22973

Lewis Mountain Cabins

30.2
877-847-1919
Other

Skyline Dr Mile 57.5
Shenandoah National Park, VA 22835

Luray Caverns Motel East

27.7
540-743-6551
Motel

831 W. Main Street
Luray, VA 22835

Luray Caverns Motel West

27.1
540-743-4536
Motel

1001 US Highway 211 W
Luray, VA 22835

Massanetta Springs Camp & Conference Center

6
540-434-3829
Hotel
712 Massanetta Springs Road
Harrisonburg, VA 22801

Massanutten Condo Rentals

7.3
540-289-9466
Hotel

Massanutten Resort
Massanutten, VA

Condo Rentals

Massanutten Rentals (Holiday Lettings)

7.3
000-000-0000
Other

Various addresses
Massanutten, VA

Condo/home rentals

Massanutten Resort Rentals

8.8
540-289-4952
Other

1822 Resort Drive
McGaheysville, VA 22840

Massanutten Vacations LLC

8.8
540-289-9033
Motel

11566 Model Rd. 
Elkton, VA 22827

McGaheysville Timeshare Rentals

877-815-42270
Hotel

Meadowlark Ridge

20.1
540-466-1588
Bed and Breakfast

156 Dividing Ridge Road, Mt. Solon, VA 22843

Microtel Inn & Suites by Wyndham Harrisonburg

3
540-437-3777
Inn

85 Pleasant Valley Rd


Harrisonburg, VA 22801

Mimslyn Inn

33
800-296-5105
Inn

401 W. Main St 
Luray, VA 22835

Montclair B&B

22.6
540-885-8832
Bed and Breakfast

320 N. New Street
Staunton, VA 24401

Motel 6 South Harrisonburg

3
540-434-6700
Motel

3210 S Main Street


Harrisonburg, VA 22801



Mountain Valley Retreat

17
540-896-7600
Hotel

3091 Ragtown Road (Shuttle Provided to JMU)
Harrisonburg, VA 22802

Minimum of 12 guests for reservation

New Market Log Cabin

27
757-353-8122
Other

643 Secession Lane
New Market, VA

Old Massanutten Lodge

5
540-908-0391
Bed and Breakfast
3448 Caverns Drive
Keezletown, VA 22832

Orlesa Farms

23.5
540-712-7937
Inn

1329 Commerce Road
Staunton, VA 24401

Quality Inn

17.8
540-248-8981
Inn

70 Lodge Lane
Verona, VA 24482


Quality Inn: Harrisonburg

1.7
540-442-1515
Inn
1881 Evelyn Byrd Avenue
Harrisonburg, VA 22801


Quality Inn: Shenandoah Valley

18
540-740-3141
Inn

162 W. Old Cross Road
New Market, VA 22844

Quality Inn: Staunton

23.9
540-887-0200
Inn

200 Frontier Drive


Staunton, VA 24401


Ramada by Wyndham: Harrisonburg

3.8
540-434-9981
Hotel

91 Pleasant Valley Rd 
Harrisonburg, VA 22801

Red Roof Inn: Harrisonburg

.8
540-433-9353
Inn

1131 Forest Hill Rd
Harrisonburg, VA 22801


Residence Inn: Harrisonburg

1
540-437-7426
Inn
1945 Deyerle Avenue
Harrisonburg, VA 22801

Residence Inn: Waynesboro

33.5
540-943-7426
Inn

44 Windigrove Drive


Waynesboro, VA 22980

River Bluff Farm Bed and Breakfast

25
540-454-9751
Bed and Breakfast

183 Quicksburg Mill Ln
Quicksburg, VA 22844

Rosendale Inn B&B

17
540-325-4544
Inn

17917 Farmhouse Lane
New Market, VA 22844

Shenvalee Golf Resort

19
888-339-3181
Motel

9660 Fairway Dr
New Market, VA 22844

Shrine Mont

35
540-856-2141
Hotel

217 Shrine Mont Circle
Orkney Springs, VA 22845

Silver Lake B&B

4
540-879-2717
Bed and Breakfast

1331 Silver Lake Road
Dayton, VA 22821

Skyland

46
877-847-1919
Other

Skyline Dr Mile 41.7 & 42.5
Shenandoah National Park, VA 22835

Sleep Inn: Harrisonburg

1.7
540-433-7100
Inn
1891 Evelyn Byrd Ave
Harrisonburg, VA 22801


Sleep Inn: Staunton

23
540-887-6500
Inn

222 Jefferson Highway
Staunton, VA 24401

South Fork Bed & Breakfast

17
540-383-9948
Bed and Breakfast

403 E. Rockingham St.
Elkton, VA 22827

Strathmore House B&B

20
540-477-4141
Bed and Breakfast

658 Wissler Road
Quicksburg, VA 22847

Super 8: Mt. Jackson

26.5
540-477-2911
Hotel

250 Conicville Road
Mt. Jackson, VA 22842

Super 8 Motel: Harrisonburg

2.9
540-433-8888
Motel
3330 S. Main
Harrisonburg, VA 22801

Super 8 Motel: Waynesboro

26
540-943-3888
Motel
2045 Rosser Ave
Waynesboro, VA 22980


The Barn at Elbow Landing

27
609-575-1039
Bed and Breakfast

9042, Route 211 West
Luray, VA 22835

The Buckhorn Inn

25.7
540-337-8660
Inn

2487 Hankey Mountain Hwy.
Churchville, VA 24421

The Village Inn

.7
540-434-7355
Inn
4979 South Valley Pike
Harrisonburg, VA 22801

The Widow Kip's Country Inn

24.3
540-477-2400
Inn

355 Orchard Drive
Mount Jackson, VA 22842

Thistle Ridge Bed & Breakfast

7
540-828-4118
Bed and Breakfast

11 Pops Lane
Bridgewater, VA 2812

TripAdvisor Harrisonburg Hotels

99
781-800-5000
Other

Tru by Hilton: Staunton

24
540-213-4000
Hotel
120 Crossing Way
Staunton, VA 24401

Valley Suites Extended Stay

2
540-437-1440
Hotel
2420 South Main Street
Harrisonburg, VA 22801