Employee Veteran Resources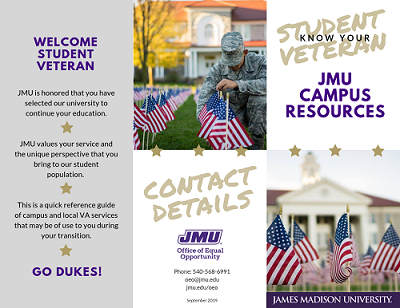 Campus Resources
JMU Human Resources:  HR consultants provide career services including career counseling, assessments, resume writing, and many other opportunities that will prepare Veteran employees for resuming and expanding their career with the University.  Benefits specialists can assist Veteran employees with understanding military leave and other benefits.
Veteran Status in MyMadison: As a government contractor subject to VEVRAA, JMU is required to submit a report to the United States Department of Labor each year identifying the number of JMU employees belonging to each specified "protected Veteran" category.  Please ensure that your Veteran status classification is correctly identified in MyMadison under Employee Personal Information on the Employee tab.
The JMU Veterans webpage is intended to serve as the portal to all things related to Veterans' JMU experience.  It provides direction to the various offices and individuals across campus and the community that will best serve Veterans.
Veteran Scholars Task Force is a university wide committee comprised of students, faculty and staff dedicated to enhancing the student Veteran academic experience and professional development by providing a continuum of services.
The Counseling Center has compiled a list of local mental health providers who participate with TRICARE. The Counseling Center provides support and services to JMU students who are military-connected.
Employee Assistance Program (EAP):  All health plans offered to state employees and their dependents have EAPs. Included are up to four sessions at no charge for such services as mental health, alcohol or drug abuse assessment, child or elder care, grief counseling and legal or financial services.
Department of Veterans Affairs and Local VA Clinic
Vet Centers: Vet Centers welcome home war Veterans with honor by providing quality readjustment counseling in a caring manner. Vet Centers understand and appreciate Veterans' war experiences while assisting them and their family members toward a successful post-war adjustment in or near their community.
Harrisonburg VA Contract Community Based Outpatient Clinic provides Veterans accessible, coordinated, comprehensive, patient-centered health care delivered by primary care providers with active involvement of other clinical and non-clinical staff. CBOC hours are Monday through Friday from 8 a.m. to 4:30 p.m., excluding federal holidays.
VA's Dentistry provides dental eligibility and patient information, and clinic locations.  The nearest VA dental clinics are Richmond and Roanoke.  For a list of local dentists participating with TRICARE please click here.
VA National Center for PTSD is dedicated to research and education on trauma and PTSD. This website contains information for the public and professionals, research, and links for where to get help for PTSD.
VA's Returning Service Members (OEF/OIF/OND) transition assistance information for Enduring Freedom, Iraqi Freedom, and New Dawn Veterans.
VA's Center for Women Veterans (CWV)
Department of Labor
DOL's Veterans' Employment and Training Service: VETS is committed to helping America's Veterans and separating service members by preparing them for meaningful careers, providing employment resources and expertise, and protecting their employment rights and promote their employment opportunities.  
DOL's VETS - The Uniformed Services Employment and Reemployment Rights Act (USERRA) prohibits employers from discriminating against any Veteran, reservists, or National Guard members because of his or her past, present, or future military obligation. The law also requires that employers provide reemployment rights after a period of active duty or training. This website provides assistance to those persons experiencing service connected problems with their civilian employment and provides information about USERRA to employers.
Equal Employment Opportunity Commission's (EEOC) Understanding Your Employment Rights Under the Americans with Disabilities Act (ADA): A Guide for Veterans is intended to answer questions you may have about your rights as an injured Veteran. It also explains the kinds of adjustments (called reasonable accommodations) that may help you be successful in the workplace.
State Resources
The Virginia Department of Veterans Services (DVS) connects Virginia's Veterans and their families to federal and state benefits, support, quality care, and recognition they have earned.  
Virginia Veterans Resource Guide provides Virginia's Veterans and their families with useful information on all state resources.
The Staunton Benefits Office is the nearest DVS center.
Local Veteran Organizations
VFW Post 632 Rion-Bowman Post
Facebook @VfwPost632
450 Waterman Drive
Harrisonburg, VA  22802
Phone: (540)434-9972

American Legion Post 188
350 Waterman Drive
Harrisonburg, VA  22802
Phone: (540)434-1887

AMVETS
1340 N. Liberty Street
Harrisonburg, VA  22802
Phone: (540)434-3315