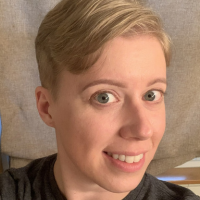 Kathryn got her Bachelor's Degree in Economics and Philosophy at the University of Illinois Urbana-Champaign and her Master's in Social Work from the University of Illinois at Chicago. She then went on and worked in various positions in PreK-12 school.
Since arriving at JMU, Kathryn has supported students with disabilities through the review and provision of both academic and housing accommodations. Additionally, she co-plans various advocacy events throughout the academic year to include Disability Advocacy Week.
Kathryn enjoys working at ODS because it is important to her to aid in the process of assisting students in obtaining equitable access to all aspects of the collegiate experience. She also enjoys the creativity and collaboration event planning allows.
Fun fact: "I didn't get my first tattoo until I was 32!"