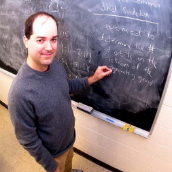 Research Description
Algebraic graph theory
Analytic number theory
Recoreational mathematics 
Education
PhD in Mathematics, 2000, Dartmouth College
MA in Mathematics, 1997, Dartmouth College
BS in Mathematics, 1995, Brown University
Select Publications
The History and Future of Logic Puzzles, Chapter 3 in The Mathematics of Various Entertaining Subjects, Vol. II: Research in Recreational Math, Princeton University Press, 2017, pp. 23-51.
Thermodynamical Arguments Against Evolution, Science and Education, Vol. 26, No. 1-2, March 2017, pp. 3-25.
Fuzzy Knights and Knaves, Mathematics Magazine, Vol. 89, No. 4, October 2016, pp. 268-280.