Debra Polignone Warne, Ph.D.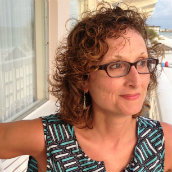 Research Description
Continuum mechanics
Nonlinear elasticity and mechanics of deformable solids
Differential equations
Hypercomplex numbers
Education
PhD in Applied Mathematics, 1993, University of Virginia
MS in Applied Mathematics, 1991, University of Virginia
BS in Applied Mathematics, 1989, University of Pittsburgh
Select Publications
Warne D.A., and Warne, P.G. (2016) Torsion in nonlinearly elastic incompressible circular cylinders, Int. J. of Non-Linear Mechanics, 86, 158-166.
Daniel, J.C., Tongen A., Warne D.A., and Warne, P.G. (2010) A 3-D Nonlinear Anisotropic Spherical Inflation Model for Intracranial Saccular Aneurysm Elastodynamics, Mathematics and Mechanics of Solids, 15, 279—307.
Coon, E. T., Warne, D. A, and Warne, P. G. (2004) Asymptotic analysis of finite deformation in a nonlinear transversely isotropic incompressible hyperelastic half-space subjected to a tensile point load, J. Elasticity, 75, 197—228.