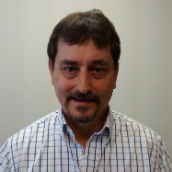 Research Description
Nonparametric statistical methods
Multiple comparison methods
Applications of statistical methods arising from statistical consulting
Education
PhD in Statistics, 1991, University of South Carolina
MA in Mathematics, 1987, Appalachian State University
BA in Mathematics, 1984, Berea College
Select Publications
"Successive comparisons between ordered treatments." Robert Lee, John Spurrier (University of South Carolina), Journal of Statistical Planning and Inference, Vol. 43 pp. 323-330, 1995.
"French Consumers' Use of Nutrition Labels." Ashley Mannell, Patricia Brevard, Rodolfo Nayga Jr. (Texas A&M University), Pierre Combris (National Institute of Agronomic Research), Robert Lee, Janet Gloeckner, Nutrition and Food Science, Vol. 36, No.3 pp. 159-168, 2006.
"Differences in antioxidant levels of fresh, frozen and freeze-dried strawberries and strawberry jam.", Marques, K.K. , M.H. Renfroe, P.B. Brevard, R.E. Lee, J.W. Gloeckner. Int. J. of Food Sciences and Nutrition 61(8):759–769. 2010.