**IF YOU WANT TO DONATE TO THE TERRY BEITZEL SCHOLARSHIP FUND, please call 855-568-4483 and we can process your gift over the phone**
Alumni Day
Interested in learning more about career opportunities in Justice Studies, and getting a chance to network with and get advice from Justice Studies alumni from a wide range of career fields and stages? 
Please join us for the virtual Justice Studies Alumni Panel on Friday, April 8 from 2:00-3:30 p.m. 
Registration is free, but you must register in advance to get the Zoom link.  Register here.  
Whether you're a first-year Justice Studies major just getting started, or a senior getting ready to graduate, this is an exciting opportunity to connect with Justice Studies alumni to help you plan for your future!
We strive to make this event welcoming, inclusive, and accessible. If you have any questions about this event, including those related to accessibility, please contact the Justice Studies department at justicestudies@jmu.edu 
Bystander Intervention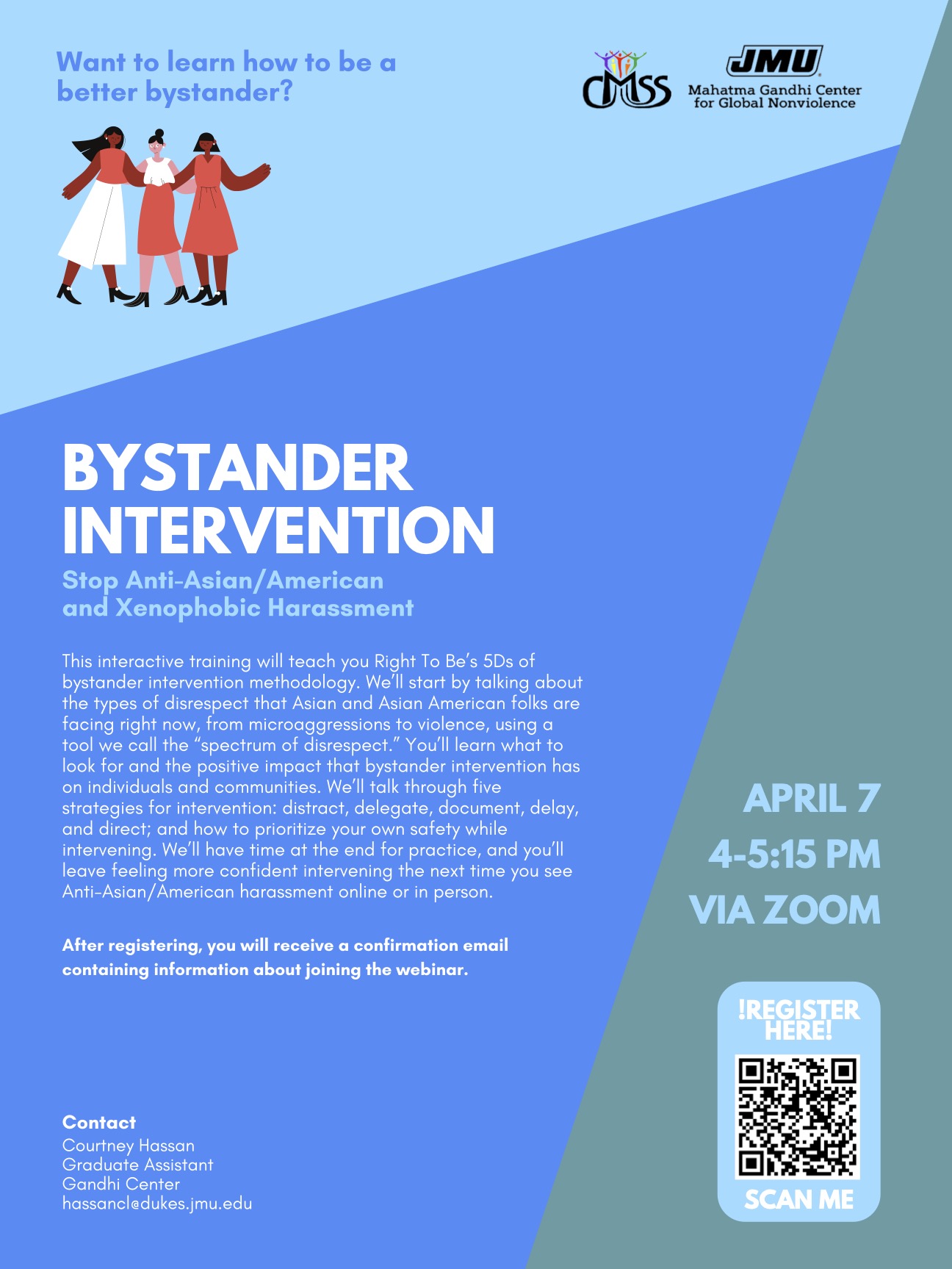 Virtual Beitzel Symposium
Please join us for the virtual Beitzel Symposium on Thursday, April 7 from 6:00-7:30 p.m. as we continue to honor and celebrate the life and legacy of Dr. Terry Beitzel. In this symposium, we highlight Dr. Beitzel's scholarship in the area of responsibility by presenting research from the International Journal on Responsibility, which he co-founded with Howard Carrier.
Hosted by the Mahatma Gandhi Center for Global Nonviolence and the Department of Justice Studies at James Madison University. Register via the action link
As we strive to make this virtual event welcoming, accessible, and equitable, please direct any questions or requests related to access to justicestudies@jmu.edu
Thank you! 
Please join us for a virtual film screening of Truth Tellers, and a Q&A with artist/activist Robert Shetterly,   Wednesday, February 2, 2022 at 7 p.m.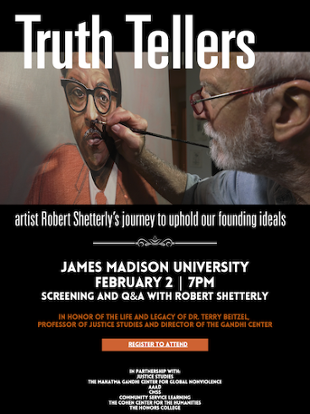 Here is a link to the film website, which includes a trailer and additional information, including this description:  
"Artist/activist Robert Shetterly has painted 255 portraits of Americans, past and present, who had the moral courage to confront issues of social, environmental and economic justice. These Americans Who Tell the Truth have been exhibited throughout the United States for almost two decades. Truth Tellers is both a story of Shetterly's art and activism and a history lesson in what it means to be a citizen of a democracy. In bringing Shetterly's message to a wide audience, Truth Tellers will spark a national conversation on truth telling."
Learn more on the JMU Calendar Link. Registration is required to get the Zoom link—please register with this link.  
The event is being held in honor of the life and legacy of Dr. Terry Beitzel, and in partnership with Justice Studies, the Gandhi Center, AAAD, CMSS, Community Service Learning, the Cohen Center for the Humanities, and the Honors College. 
Please contact Justice Studies at justicestudies@jmu.edu with any questions or for more information.  We hope you'll join us!