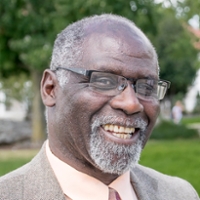 Summer Program in Ghana Director
Professor of History
Executive Director for Access & Educational Outreach
Education

Ph.D., Northwestern University
Fields and specialties

African history, Islam in Africa
Teaching areas

Modern Africa
Research interests

Contemporary Ghana; religious tolerance in West Africa
Selected publications
Islamic Learning, the State and the Challenges of Education in Ghana, (With Abdulai Iddrisu and Mark Sey), Africa World Press, 2013.
Islamic Talismanic Tradition in 19th Century Asante, Edwin Mellen Press, 1991.
"A Contested Half-Century: A Political History of Ghana since Independence," in Ivor Agyeman-Duah, ed., Pilgrims of the Night: Development Challenges and Opportunities in Africa. Ayebia Publishing, 2011.
"History of Islam in West Africa: Implications for the Current Political Atmosphere," The Islamic World, edited by Andrew Rippin (London: Routledge Publishers, 2008).
Ghana Historical Dictionary, Scarecrow Press, 2nd Edition, 1995 (with Daniel McFarland); independently wrote the 3rd ed. 2005; and 4th ed. 2014. Scarecrow Press, a Division of The Rowman & Littlefield Publishing Group.
Service
A former Lester Martin associate at the Harry S. Truman Institute for International Peace, The Hebrew University in Jerusalem
Public speaker on issues concerning Islam and the politics of religion in Africa.