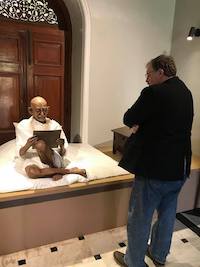 The Gandhi Center & Department of Justice Studies honors and celebrates the life and legacy of Dr. Terry D Beitzel, Professor of Justice Studies and Director (since 2014) of the Mahatma Gandhi Center for Global Nonviolence at JMU.
Dr. Beitzel earned a master's degree in the history of science from Harvard University and a doctorate in conflict analysis and resolution from George Mason University. He joined the Department of Justice Studies at James Madison University as faculty in 2007, after teaching appointments at Bridgewater College and Eastern Mennonite University in the Peace and Justice program.
Dr. Beitzel was an inspiring teacher who encouraged his students to ask questions, to accept responsibility for their learning, and to become involved in the JMU, Harrisonburg, and Rockingham County communities. The overarching question in his teaching resonates with students long after completing his courses: "who is responsible to do what for whom?"
In addition to teaching, Dr. Beitzel authored an extensive and wide-ranging series of publications and conference presentations. His scholarship explored the transitions from violent conflict; contemporary and novel approaches to furthering justice; and the role of nonviolence, responsibility, civic engagement in the lives of individuals and societies.
The high quality of Dr. Beitzel's work, and his passion for cross-cultural community building, led to collaborations in Guinea, India, Kenya, and Kosovo. The global scope of his work led him to serve as a practitioner for the Global Initiative for Justice, Truth and Reconciliation (GIJTR) with the International Coalition of Sites of Conscience (ICSC).
This impressive record of scholarship and international collaboration provided the foundation for Dr. Beitzel to establish, with Howard Carrier, the International Journal on Responsibility, where he served as founding Editor-in-Chief. The journal serves as a forum for discourse on relevant questions of responsibility within any area of academic study or aspect of public life. The journal's success was due, in large part, to Dr. Beitzel's tireless efforts to ensure that germs of ideas ultimately came to fruition as published issues.
Dr. Beitzel believed deeply in nonviolent forms of conflict resolution and thus relished the chance to become the Director of the Mahatma Gandhi Center for Global Nonviolence at JMU in 2014.
In that leadership role, he re-energized the Gandhi Center, generating more opportunities for JMU students and scholars to collaborate with community members in the Shenandoah Valley and beyond. Partnerships were launched with varied groups such as the Valley Justice Coalition, New Bridges Immigration Center, Fairfield Mediation Center, Many Voices of Harrisonburg, and the Center for Peace Studies and Violence Prevention at Virginia Tech.
Recent projects include the creation of the Gandhi Mobile Peace Library, which gives local elementary and middle school students access to over 400 books on peace and justice. These books focus on teaching the Gandhi Center's core values of tolerance, non-violence, and de-escalation. 
Dr. Beitzel also committed the Center to addressing issues of racial justice with the establishing of the research lab and statement on the protests surrounding the death of George Floyd in the summer of 2020.
The Beitzel Memorial Fund was established in his memory and will provide scholarships to first-generation JMU students who major in justice studies and indicate an interest in social justice and nonviolence.