Please read the following information before proceeding to the Summer Aid Application at the end of this page.
Types of Available Summer Aid
Federal Pell Grant
Federal Direct Subsidized Loans
Federal Direct Unsubsidized Loans
Federal Parent PLUS Loan
Federal Graduate PLUS Loan
Private Loans
Applying for Summer Aid
Complete a 2023-24 Free Application for Federal Student Aid (

FAFSA

). 

(only required if applying for federal aid)

Sign Up for Summer Classes A student's schedule should be FINALIZED before completing step 3 below.
Complete a 2023 JMU Summer Aid Application An email will be sent to a student's Dukes account once aid eligiblity is determined.
Students only using Private Loans for summer are not required to complete a

FAFSA
Click here to learn more about private loans.
Qualifications for Aid
All students should be accepted in an approved program of study & the total eligible credits taken during the entire summer semester are used to determine enrollment and aid eligiblity.
Undergraduates:
For Federal Loans- 6 or more

 

Financial Aid Eligible Hours

For

 

Federal Pell Grant

s- 1 or more

 

Financial Aid Eligible Hours
 Graduate Students:
2023-24 evaluations are determined after Spring 2023 grades are posted.
Students who do not meet SAP may appeal based on extenuating circumstances. The Summer deadline to appeal is:
For further information regarding SAP, please click here
**Private Loan requirements differ. A student should contact their lender for specific
SAP
requirements.**
Summer Aid Hold
Any student that completes a JMU Summer Aid Application will have a Registration Hold placed on their account to stop schedule adjustments that could change or cancel aid. Communication with our office is essential to determine the potential changes to aid before making changes to a schedule.
THIS HOLD DOES NOT AFFECT FALL REGISTRATION and will remain on a student account until the end of ALL Summer classes in August
Schedule Adjustments
Adjustments that could change a student's summer aid include:
Reduction in credit hours
Reduction in number of weeks enrolled in classes
Dropping a class
Withdrawing from a class
Failing a class
Students wishing to adjust their schedule after the Summer Registration Hold is placed on their account will need to submit a Summer Course Change Request Form.
Awarding
Students who have completed all their requirements will receive an email notification when awarded. This message will advise them to log in to MyMadison to view and accept any aid they wish to receive.
Summer Awarding will begin in early May.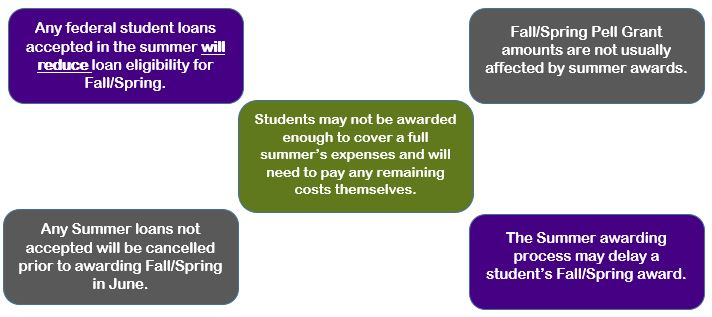 Disbursements & Refunds
Since funds are not available until class(es) start, students generally recieve summer aid as reimbursement.
It is possible for some student's disbursements and refunds to be delayed until after JMU's Fiscal Year Shutdown, which occurs from around the middle of June until shortly after July 1. No disbursements occur during this shutdown period.
 Come prepared to cover initial expenses and costs not covered by financial aid. 
Federal Pell Grant

s will not be available until after July 1
**Pell eligiblity will be based on enrollment on July 1**
The University Business Office should wait for aid to be disbursed that covers a student's full bill. A student will need to pay for any remaining bill not covered by their financial aid.
You must agree to the following before you proceed to the Summer Aid Application:
Any Summer Aid Application submitted after 5 PM on August 9, 2023 may not be processed in time to be eligible for summer aid. 
I confirm I have read the above information.   
I understand a Summer Registration Hold will be placed on my account prohibiting me from making changes to my summer schedule.
I understand the summer registration hold will NOT affect my Fall 2023 registration.
 I understand classes must be financial aid eligible to receive aid (more information about financial aid eligible hours can be found here).  
If you have further questions, you can email our summer aid team at summer_aid@jmu.edu.