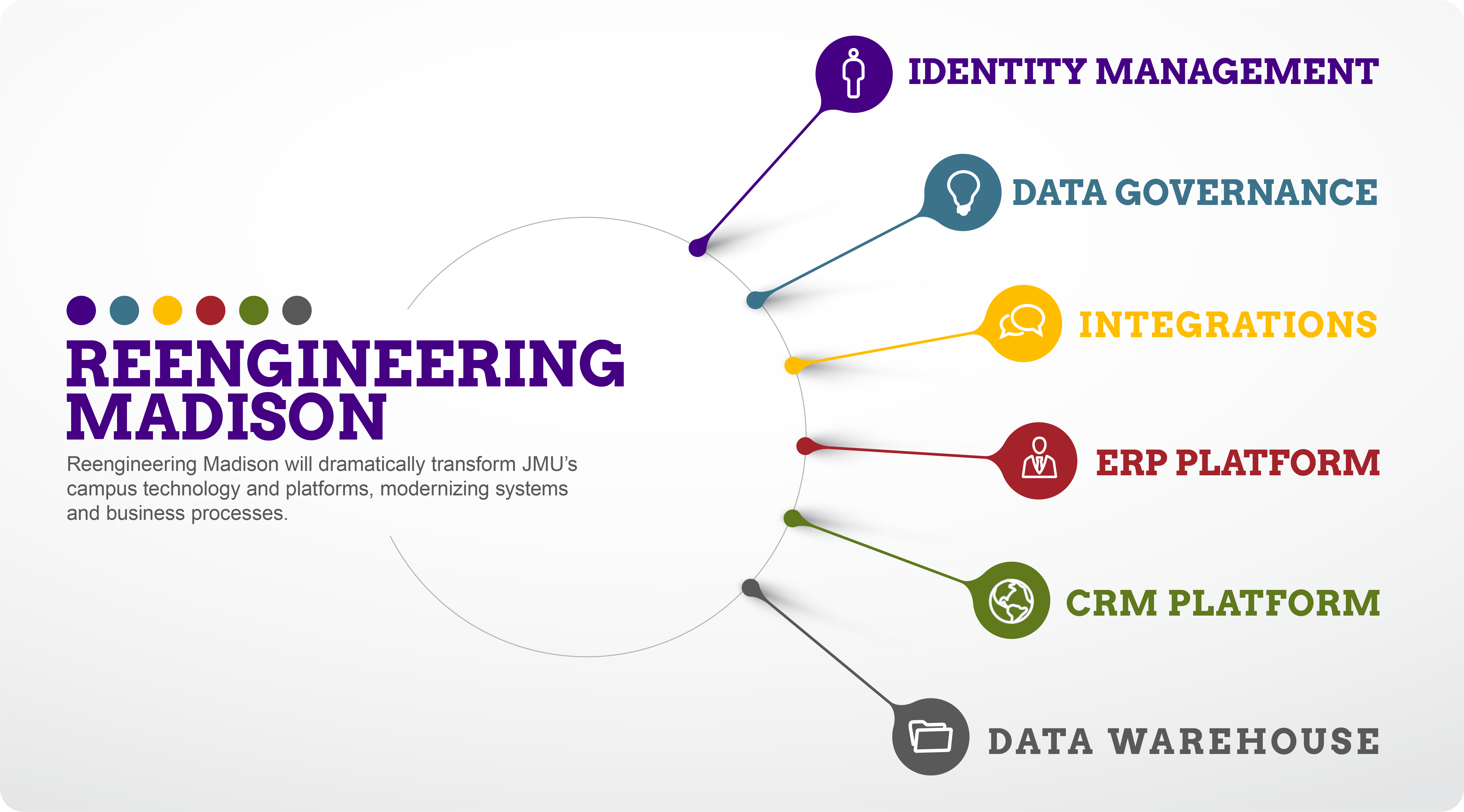 Reengineering Madison Summary
Reengineering Madison will dramatically transform our campus technology and platforms, modernizing our systems and business processes. Click here for a video overview of the entire project!
This initiative will include implementing significant technology platforms such as an enterprise CRM (Customer Relationship Management) and new data solutions for managing and visualizing JMU's data.  The CRM will include functionality for Admissions, Advising and Advancement along with other capabilities to be used across campus.  Reengineering Madison will also involve replacing current PeopleSoft ERP (Enterprise Resource Management) Finance, Human Resources and Student Administration applications as well as current applications used for managing the identities of JMU's constituents.  We anticipate this set of projects will take at least seven years to fully implement.
Implementing Reengineering Madison is going to take all of us.  A change so comprehensive will be challenging and far beyond the scale of a system implementation that IT will simply do FOR us.  We will do this TOGETHER, as a community.
Reengineering Madison Highlights
Reengineering Madison will drive improvements to the student experience and measurably grow JMU's already outstanding retention rate.  On Faculty and Staff fronts, the program will support the ability for employees to complete tasks in fewer steps, respond faster in a coordinated way with less effort, and have greater discretion in how we do our work.  Among many improvements:
360 Views: Bringing information together in a way that allows JMU to provide streamlined services to all of our constituents – students, parents, employees and our community.
Students: Greater control over communication delivery methods by communication type; such as receiving financial aid updates via text and messages from the Registrar via email. Offices sending these communications will have greater visibility into how students are interacting with these communications
Admissions: Creative and tailored recruitment campaigns, delivered in different technology channels to reach our future Dukes.
Advising: More information on students, proactive early alerts that generate actionable steps to intervene when students are struggling, improving student retention.
Business Processes: Paper processes can be shifted to digital – imagine approving an ePAR on your phone?!
Shared Data: Updates to a constituent's email/phone/address will flow through the many places it's displayed or stored, so everyone has the latest information.