College of Education FAQ
When you attend JMU, you are taught by experienced, engaged faculty in courses that are carefully designed to prepare you with numerous early and integrated field experiences. JMU's education programs are accredited by the Council for the Accreditation of Teacher Preparation (CAEP), approved by the Virginia Department of Education, and JMU is accredited by the Southern Association of Colleges and Schools.  JMU has been awarded by CAEP with the Frank Murray Leadership Recognition for Continuous Improvement.  This signifies our commitment to maintaining top notch programs using the most innovative and effective pedagogical practices in preparing our teacher candidates.
"We have some of the best professors out there in our COE.  They truly care about us as their students and educating us on how to be the best and most inclusive teachers we can be.  They are always available to help us, and they want to know us and build relationships with us." -Emily, Elementary Education 
"JMU Teacher Education provides so many opportunities to work in the community at schools and events to put to practice what we are learning in our classes, allowing us to immediately apply techniques and recognize how they are useful in the real world." –Sydney, English - Secondary Education
JMU undergraduate teacher education programs prepare you for licensure in Virginia.  We have undergraduate programs in elementary and inclusive early childhood, special education, content areas in middle and secondary* grade levels, and PreK-12 endorsement areas in art, music, physical education*, theatre, dance, foreign language and teaching English to speakers of other languages.  Check here for a comprehensive list of all of our education programs.
Upon completion of education programs, which includes completing coursework, field experiences, and required assessments, teacher candidates are eligible for licensure and the Education Support Center in the College of Education will gladly submit your licensure packet to the Virginia Department of Education on your behalf.
Some students will choose to continue their education and stay a fifth year to earn a Master's degree. You can consider opportunities to earn degrees in additional endorsement areas or pursue a program in Teacher Leadership.  Other students return in the future for one of our graduate offerings to become specialists in reading or math or to become principals!
*NOTE: Secondary education can be pursued either an undergraduate only or as a 5-year program with a dual undergraduate and master's degree. The physical and health education program is only offered as a 5-year program.
JMU offers majors in elementary education, inclusive early childhood education, middle grades education, secondary education*, special education, and teaching English to speakers of other languages.
*Our secondary education students have a choice of a 4-year undergraduate program declaring secondary education as their first major and double majoring in their content area OR a 5-year program which leads to a Master of Arts in Teaching by majoring in content and minoring in pre-professional secondary education. See https://www.jmu.edu/coe/msme/secondary-ed/index.shtml for more information.
For all other programs, you will major in your content area – art, dance, music, theatre, kinesiology, or a foreign language (e.g. French or Spanish). 
Please find information specific to your program of interest at: https://www.jmu.edu/coe/academics.shtml
Your first-year adviser will help you determine what classes you need to take.  There are some specific courses we will ask you to take such as writing, developmental psychology, and math that will fulfill your general education requirements and meet teacher education requirements.  We also highly recommend you take your first education course, Foundations of Education (EDUC 200), in your first year.  Most of your education coursework begins in your sophomore or junior year depending on the program, after you are fully accepted into teacher education.
You will be assigned an education adviser. Please consult your adviser each semester to make sure you stay on track with your academic plan!
Now that you are accepted to JMU, there will also be some requirements to begin your education coursework.  You will need to be accepted to teacher education in order to start many of your education classes.  These requirements will be reviewed with you in advising sessions, you do not need to get started until you have been directed to do so.  Requirements such as courses, entry assessments in reading, writing, and mathematics, a minimum GPA, certificates in Child Abuse Prevention and First Aid/CPR/AED, and a pre-professional self-assessment are some of the requirements you will need to meet.  Information related to teacher education can be found on the Education Support Center website at: https://www.jmu.edu/coe/esc/.
Our Teach Ambassadors are peer advisors that will gladly answer your questions about the process to apply and be accepted into teacher education or any other questions you may have – contact them at teach.jmu@gmail.com.
Students will experience taking their education classes in small cohorts, having meaningful discussions, engaging in hands-on learning, and building personal relationships with peers and professors.  JMU teacher candidates engage in reflective thinking that will broaden their understanding and get them out of their comfort zone. 
"Your professors will challenge you, and you will grow so much because of this. All of your assignments will be meaningful and will actually prepare you to be a teacher. Also, with the cohort model, expect to become very close with your classmates. They will become like family to you." –Lindsey, Elementary Education
"As a junior special education major… a lot of the work we do in class requires service hours, observation hours, group projects, and a lot of discussion! Each professor I have worked with has ensured that classroom environments are collaborative, and each of my professors has truly made themselves available to me through flexible office hours." –Caroline, Special Education
"I learned that I needed to closely observe the teaching methods my professors used while teaching our classes!  I noticed they were putting into practice the techniques and methods that they were teaching us, so I began observing them more closely so that I could watch the ideas in action." –Sydney, English – Secondary Education
There are study abroad programs that offer intercultural experiences and domestic study away opportunities for education and general education courses, including practicum abroad and even student teaching – see https://www.jmu.edu/global/abroad/index.shtml. Check out the College of Education Semester in Salamanca blog https://shoffnme.wixsite.com/salamanca and how JMU faculty and students have a global impact on education by supporting Nasaruni Academy in Kenya https://jmubethechange.wordpress.com/2015/08/24/sayos-hope-for-better-lives/.
"I studied abroad on the North of England Programme. As a History major in the Secondary Education program there were many study abroad [options] … I chose to do a History study abroad and had a great time. There was something transformational about studying historical events while standing on the very Medieval and Roman walls where the events took place. I would recommend a study abroad experience in any program or course of study for anybody and everybody at JMU." –Jordan, History and Social Science – Secondary Education
"I just returned from a study abroad experience on San Salvador Island in the Bahamas.  I was given the opportunity to explore my passions of marine life while also challenging myself in brand new content areas.  I saw modern reefs, 125,000-year-old fossilized reefs, and so many beautiful sights and marine animals…I learned so much about science and how I can teach my students enthusiastically in the future." –Emily, Elementary Education
"My class traveled to Smith Island and stayed on the island for a few nights with the Chesapeake Bay Foundation.  We learned all about the bay and ways we can help save it.  It was a really cool opportunity and something not everyone gets the opportunity to do." – Emily, Elementary Education
Teacher candidates have many opportunities to engage in classrooms during field experiences in schools throughout the Shenandoah Valley for a broad range of experiences in urban, suburban and rural communities. Many clubs promote volunteerism in the community and classes have service learning opportunities. Additionally, our students love the Harrisonburg area and surrounding community – including the restaurants, shopping, hiking, and local events.
"I was in the ROOP Learning Community, so I began working with the surrounding community just weeks into being a student at JMU.  From taking field trips to local schools to creating activities for after school programs, we really do immerse ourselves in the surrounding community.  We also took several field trips to local farms to learn about agriculture as that is something that is very prominent in the Shenandoah Valley.  I think the COE does a very good job of getting us out of our "JMU bubble" and immersing ourselves in the community of Harrisonburg." – Emily, Elementary Education
"There are so many opportunities to work in the school systems [around] Harrisonburg! Not only do many education courses (like practicum) get you observing in classrooms, but a lot of entry level courses have you volunteering in classrooms as well. Additionally, the COE has clubs and opportunities that get you into the classroom for extra hours of service. There are also Family Math Nights JMU students facilitate, substitute opportunities, and a plethora of ways to get involved in the school systems surrounding JMU." – Caroline, Special Education
"I volunteer in Staunton at a therapeutic horseback riding program for students with intellectual, physical, or emotional challenges.  I have grown to love this and look forward to it each semester." – Emily, Elementary Education
"When I first came to JMU, I was under the impression that Harrisonburg didn't have a lot to offer me, but I was proved wrong. Downtown Harrisonburg is a quaint little area with lots of great food and shopping. There are lots of outdoor activities available nearby too. I have found one of my favorite pastimes to be exploring all that Harrisonburg has to offer." Lindsey, Elementary Education
"I absolutely love Harrisonburg. I have truly fallen in love with the Shenandoah Valley! As a student who now lives off campus, I love exploring JMU's arboretum, Harrisonburg's lavender farm, the Green Valley Book Fair, downtown restaurants, hiking Skyline Drive with friends, reading and enjoying coffee at Barnes and Noble, and my most favorite involvement of all: becoming a Big Sister through Harrisonburg/Rockingham County's Big Brother Big Sister program." – Caroline, Special Education
ROOP is the learning community for future teachers who want to share their passion and dig deeper in the educational field. Incoming Freshman will to take general science courses, core education courses, and foster meaningful connections with professors. They will also have the chance to participate in community service projects, take field trips, visit local schools. and make lifelong friendships. Contact 
Robbie Higdon for more information.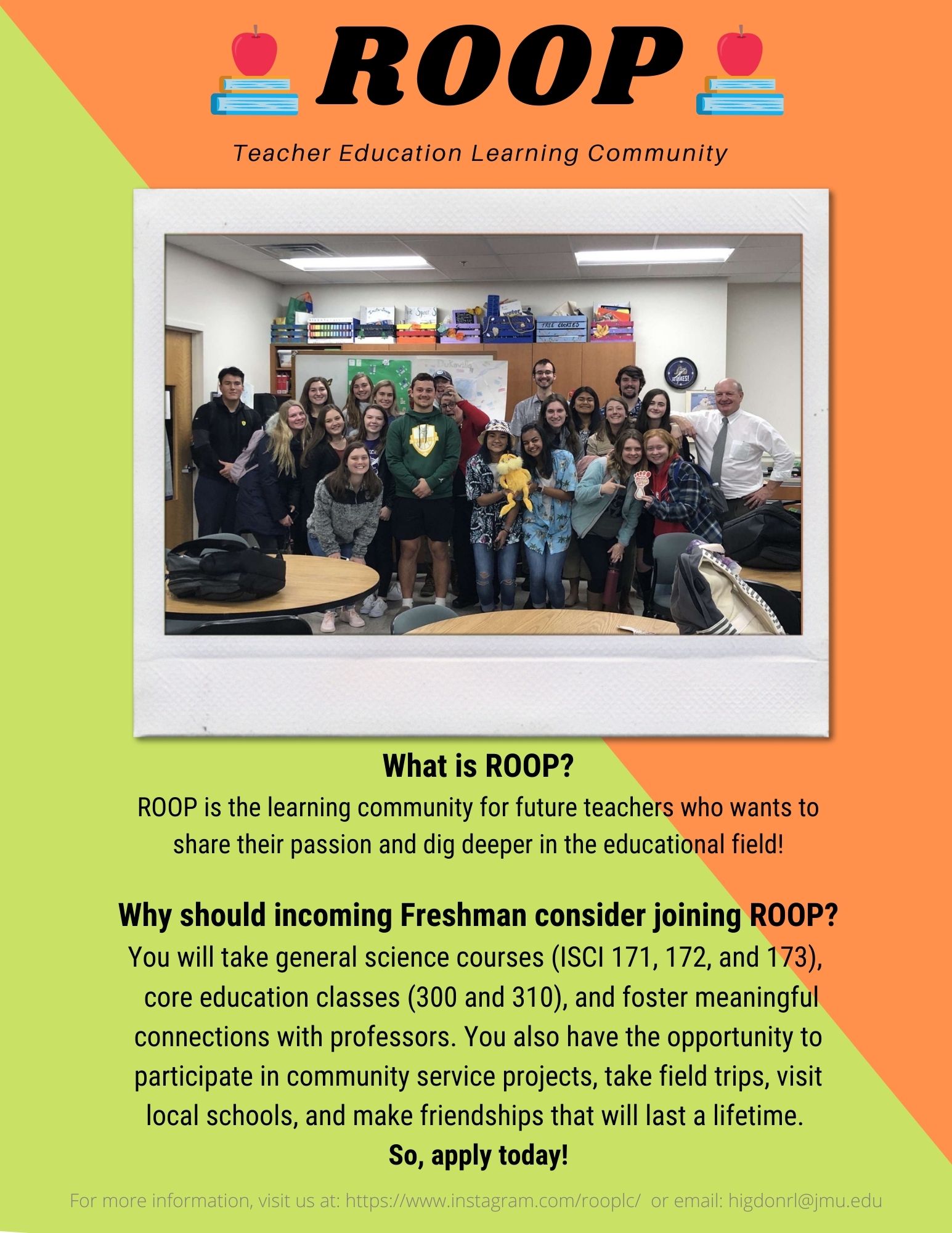 JMU COE on Instagram
View this post on Instagram