The Gaglioti Capital Markets Laboratory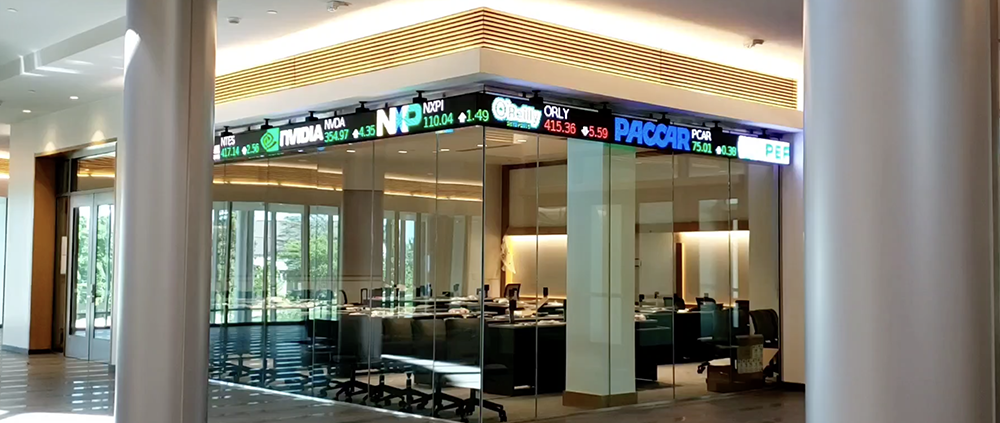 The Gaglioti Capital Markets Lab was established in 2011 through a generous gift from Enrico Gaglioti ('94), and features computers at every seat with access to important financial industry software applications such as SAS, Analytic Solver and Crystal Ball.
The Gaglioti lab is one of the areas that received a comprehensive makeover in the new learning complex. The compact space was enlarged to accommodate more students, and a board room was attached that can function as a multi-use area.
Bloomberg terminals keep students and faculty connected to up-to-the-minute and relevant data for the finance world that is vital to their research and learning. They also allow the opportunity for students to become certified on the Bloomberg terminals and gain a competitive edge in the job market.
Gaglioti Lab Features
The Gaglioti Lab has been designed for classroom, laboratory and open use, and consists of:
Forty computer stations, plus an instructor station, eleven of which will be Bloomberg stations.

Eight 55" flat panel displays with cable news feeds and one 96" smart board.

A stock ticker that wraps around the exterior of the lab.

SAS, Analytic Solver and Crystal Ball Software applications.
Gaglioti Lab Management
As feasible, the following classes will be scheduled in the Gaglioti lab:
FIN371 - Principles of Investments, which is required of all finance and QFIN majors as well as economics majors with a financial economics concentration.

Required Quantitative Finance courses: FIN405 - Security Pricing, FIN480 - Seminar in Financial Engineers.

Multiple finance electives: FIN362 - Financial Statement Analysis, FIN378 - Fixed Income, FIN475 - Financial Modeling, FIN434 - Fundamentals of Financial Data Science, etc. 
Any JMU student wishing to gain access to the Gaglioti Lab will be required to complete specific training and pass the lab quiz. For further information, please self-enroll to the department canvas site at: https://canvas.jmu.edu/enroll/EYYWWR  
Students who have completed or are currently enrolled in COB300 will be required to attend a Gaglioti Lab-specific training class and pass a brief test on the training.

All students who have successfully completed training are required to sign an access request form. If you have any questions, please contact Ms. Krista Dofflemyer at

dofflekd@jmu.edu

.