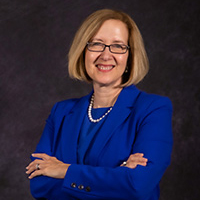 I want to extend a warm welcome to you from James Madison University School of Nursing. In these times of extraordinary change, the James Madison University School of Nursing continues to rise to the challenges and opportunities that face today's next generation of nursing and health care professionals.
Programmatically, JMU Nursing continues to excel! Our pre-licensure BSN program recently expanded student admissions in response to the growing healthcare needs of the Commonwealth. The RN to BSN program has been responsive to our community needs, working with academic partners at the associate degree level to develop a dual degree program where students can co-enroll with a Virginia Community College of their choice and JMU to complete their BSN. NCLEX and MSN certification pass rates set examples of high educational standards. Our DNP students impact patient outcomes by becoming leaders in healthcare innovation and influencing health policy. Our Advanced Practice BSN to DNP allows students to seek certification as a Family Nurse Practitioner or Adult Gerontology Primary Care Nurse Practitioner and complete their doctoral studies simultaneously. Our Chronic Illness minor prepares students from any major to understand and respond to the impacts of chronic illness on the individual, family, the health care system, and society. Innovation in our labs continues with new simulation experiences that meet competency-based education requirements and offer ways to engage both globally and civically.
Our faculty remain supportive and resilient—adapting teaching and learning practices, always supporting student success and equity, and producing excellent learning outcomes. Our students and graduates demonstrate that DUKES make the difference in both high quality and compassionate healthcare.
We are excited about the many opportunities James Madison University has to offer our students, faculty, staff and alumni. We look forward to your engagement and support in our commitment to Being the Change!
Feel free to contact us with questions or comments. Thank you for your interest in James Madison University School of Nursing.
Best Regards,
Melody Eaton, PhD, RN, FAAN
Director and Professor
James Madison University School of Nursing