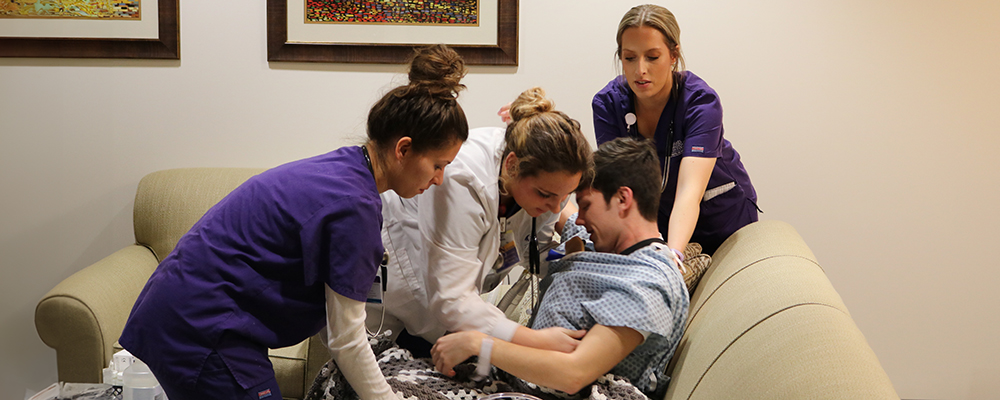 The interdisciplinary minor in chronic illness prepares students from any major to understand and respond to the impacts of chronic illness on the individual, family, the health care system, and society. Knowledge and strategies to address the prevention and the management of chronic illness across its trajectory will enhance the skills and abilities of students who plan to practice in any profession. The minor is open to all undergraduate students at JMU. The minor requires a minimum of 18 credits with no more than 6 credits in the student's major counting toward the minor.
Steps to Declare Chronic Illness Minor
Consult with your academic adviser regarding the feasibility of your workload to complete the minor in addition to your major requirements.

Declaring a Chronic Illness minor:Log into

 

MyMadison, select

 

Student Center.
Select

 

Major/Minor Change

 

from the "Other Academic…" dropdown menu.
To add a program of study select

 

Add Major/Minor - Choose

 

Chronic Illness

 

as your plan.
After all requests are entered select

 

Submit Request.

Deadlines

 

for submission of the Application to Declare a Chronic Illness Minor are due to the Chronic Illness Minor Coordinator by:

The last day of September for fall registration for the Spring term.
The last day of February for spring registration for the Fall term.
Course Requirements for the Chronic Illness Minor
View the Chronic Illness Minor section of the JMU Catalog
Fall 2023 Courses
Core Courses
NSG 390: Impact of Chronic Illness, 3 credits
NSG 391: Living Successfully with Chronic Illness, 3 credits
Elective Courses
NSG 306: Combating Childhood Obesity, 1 credit. Online
NSG 322: Integrative Healthcare, 2 credits. Hybrid. (25 cap) Friday, 1130-1330
NSG 326: Care and Consideration of Children with Special Needs, 1 credit. In Person Fridays, 0830-0930
NSG 326 (0002): Care and Consideration of Children with Special Needs, 1 credit. In Person Fridays, 0950-1050
NSG 329: Best Practices in Diabetes Care, 2 credits. Online.
NSG 393: Power-Based Personal Violence, 1 credit. Online.
NSG 490: Primary Care Nursing, 1 credit. Online
IPE 313: Issues & Applications of Family Caregiving, 1 credit option only.
IPE 415: Ethical Decision-Making in Health Care: An interprofessional Approach, 1 credit. Hybrid, SSC 4044 1700-2000
EXED 306: Lifespan Issues for Individuals with Disabilities, 3 credits.
KIN/NUTR 424: Exercise & Nutrition in Chronic Disease, 3 credits. *prerequisites apply
SOCI 335: Disability & Society, 3 credits. *Social Work majors only during advance registration
SOCI 375: Medical Sociology, 3 credits. *Social Work majors only during advance registration
ANTH 395 sec 0001: Special Topics in Anthropology: Evolution of Health & Disease, 3 credits. *ANTH majors only during advance registration
HTH 255: Chronic Diseases, 3 credits. *HTH majors only
HTH 351: Health Behavior Change, 3 credits. HTH majors only
Benefits of the Chronic Illness Minor
The prevalence of chronic illness will continue to increase in both the young and old. As the U.S. population ages, knowledge and strategies to manage chronic illness are increasingly important for students in many professions.
The more you know about the prevention and management of chronic illness the more likely you can positively influence these life changing conditions. When a chronic illness cannot be prevented it can be managed to reduce the impact and improve the health of the individual and the overall health of society.
The greatest proportion of the United States and a large proportion of other countries health care dollar are directed to those with chronic illness. The more you know how these monies are managed the more valuable you can be to an employer.
With the increasing complexity of healthcare knowledge and specialization in a variety of disciplines, no one healthcare professional can meet the complex needs of patients with chronic illness. In the environment of specialization, communication across disciplines would naturally decrease. This dilemma can be reduced through a better understanding of the interdisciplinary approach. The interdisciplinary education gives the student the opportunity to view chronic illness through a variety of perspectives. The knowledge will better prepare the individual to work collaboratively to better deal with the issues associated with chronic illness.
A minor will provide a way to focus additional academic work that complements the nursing major.
Questions about the Minor? Contact:
Christina Lam PhD, RN
Chronic Illness Minor Coordinator
School of Nursing
James Madison University
Health and Behavioral Studies Building Office 4074
Email: Russelck@jmu.edu