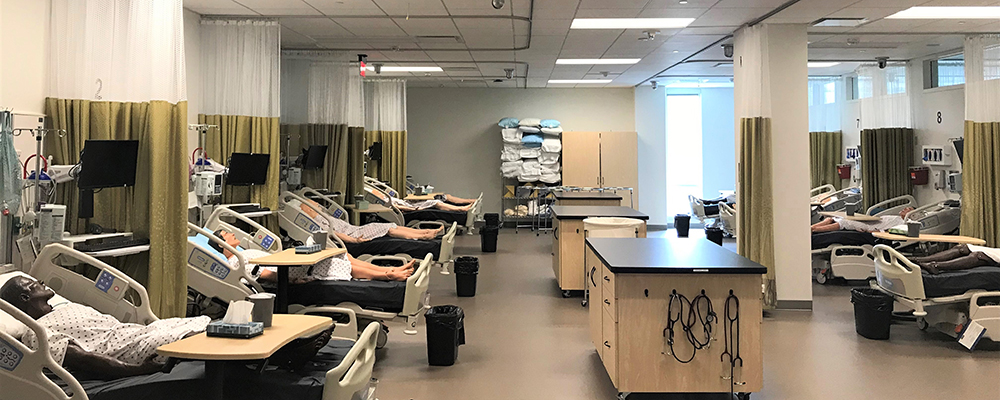 Welcome to the James Madison University School of Nursing Simulation and Clinical Laboratories located in the new Health and Behavioral Studies building. There is over 7000 square feet of learning space dedicated to skills acquisition and health assessment. The simulation labs are comprised of a 6-bed acute care learning environment and a 4-bed primary care learning environment. The new spaces provide nursing students with the opportunity to enhance their skills in a life-like learning environment through practice-based, hands-on education. The clinical and simulation laboratories are equipped with low, moderate, and high-fidelity patient simulators from across the lifespan. This allows students to be exposed to patient care scenarios that focus on pediatrics, medical/surgical, psychiatric, community health, and critical care.
The skills laboratory offers students access to a 20-bed learning space to gain mastery of core nursing skills and procedures, to develop critical thinking necessary for critical decision making, and to gain confidence in providing care prior to entering an off-site clinical setting. The health assessment laboratory is an interprofessional space where students become proficient in performing a comprehensive physical assessment, the foundation for safe nursing practice.
Purpose: Simulation and Clinical Laboratories
The School of Nursing strives to engage students through simulation and to innovate exceptional learning experiences with the application of simulation standards. Our basic assumption assumes that learners are intelligent, caring, and willing to engage in self-discovery within the safety of our simulated environments. The result of this commitment:
Prepare the student for safe clinical practice
Advance the science of nursing through research focused on simulation and clinical practice
Develop critical thinking skills in new graduate nurses
Promote innovation in nursing education using simulation technology
Laboratory Environment
The Nursing laboratories provide an atmosphere in which students learn how to respond to patient conditions in a safe, professional manner within the context of a supportive environment. Students work in small groups with clinical faculty to ensure learning is relevant, appropriate, and timely. Additionally, the simulation and clinical laboratories are equipped with a state-of-the-art integrated audiovisual system that allows for broadcasting and recording simulation and laboratory experiences. The recordings enable faculty and the lab team to reflect and evaluate student performance and provide feedback that is critical to learning.
Current and Future Simulation Development
The intent and focus of simulation in the JMU School of Nursing is to continue to develop nursing practices for students through a variety of technological applications and simulation based experiences. The JMU School of Nursing in collaboration with the university is dedicated to continually improving simulation applications to enhance the nursing curriculum. Future goals include the integration of interprofessional simulation based experiences, simulation program accreditation, and maximizing simulation within the School as permitted by Virginia Board of Nursing regulations.
JMU Nursing Lab Contact Information
JMU School of Nursing
Lauren Mullen, MSN, RN, CNE, CHSE
Lab Director
235 Martin Luther King Jr. Way
MSC 4305
Harrisonburg, VA 22807
Email:

 

jmunursinglabs@jmu.edu