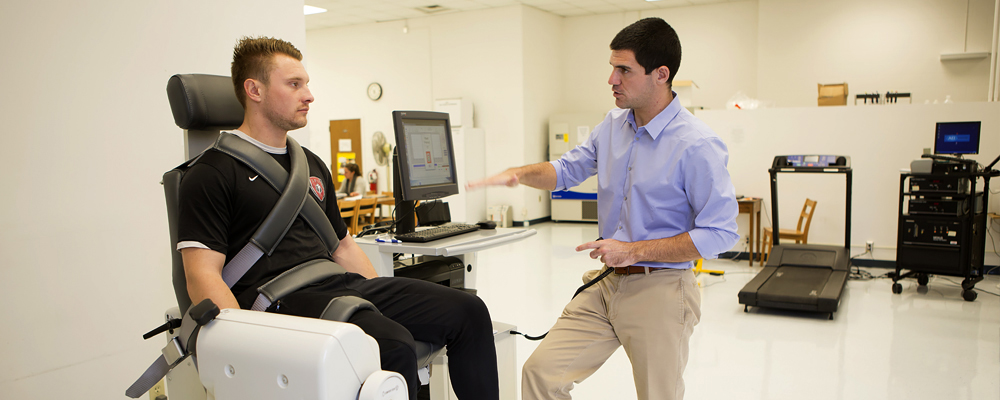 Human Performance Laboratory (Godwin 209 and Godwin 217)
Lab director: Dr. Michael Saunders
This laboratory space is utilized as both research and instructional space for undergraduate and graduate Kinesiology classes. The lab is well equipped with a variety of physiological testing equipment.
Examples of equipment:
Exercise testing:

Multiple metabolic carts, including models from Viasys, ParvoMedics, and Cosmed.
Monarch cycle ergometers
Two Velotron road cycling simulators
Treadmill ergometers, including one equipped with suspension capabilities
Heart Rate Monitors
Biodex

Cardiorespiratory assessment:

Electrocardiogram (ECG)
Spirometers

Biochemical and metabolic analyses:

DNA extraction equipment and supplies
Microplate reader
Hemoglobin and Hematocrit analyzer
Ultrafreezer
Refrigerated Centrifuge
Blood Lactate and Glucose Analyzer

Muscle analyses:

Muscle Biopsy Supplies and Equipment

Biomechanical analyses:

Motion capture and analysis
Force plate

Body composition assessment:

DEXA (total body fat, visceral fat, and bone density)
inBody Analyzer (total body fat, total body water) 
Crawford Fitness Center (Godwin 116)
The Crawford Fitness Center is named after Dr. Marilyn Crawford, former department head. This lab includes several squat and bench racks with accompanying barbells and plates, a full set of Cybex variable resistance machines, various aerobic exercise options, a cable cross machine, and more.
Sinclair Gymnasium (Godwin 201 A & B)
Named after Dr. Carolyn Sinclair, this gymnasium has four regulation sized basketball courts, which can also be used for volleyball, badminton, indoor soccer, fencing, martial arts or any number of other activities.
Savage Natatorium
Named after a former faculty member, the Savage Natatorium provides opportunities for swimming, water polo, scuba, and other aquatic activities.
Weight Room (Godwin 218)
This weight room has been outfitted with modern functional training equipment, including a central tower with options such as rope pull, pivot bar, multiple types of pull-up handgrips, step-up platforms, etc.  Around the room there are options such as TRX suspension training, plyometrics boxes, fitness tires, slam bags and medicine balls, and dumbbells.  Additionally, there are various options for aerobic exercise, including fitness bikes, treadmills, and cross trainers.
PHETE Classroom & Movement Lab (Godwin 137 & 140)
Unique classroom/lab space for PHETE classes, movement lab experiences, and practicum experiences. This space is also utilized for Kinesiology community outreach programs and special events.