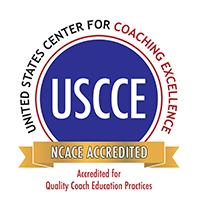 The Coaching Education minor provides students with the opportunity to gain knowledge and applied experiences to become competent sport coaches who have the tools to create a safe, fair, and positive sport environment and promote holistic athlete development. 
The minor program is 21 credit hours (including 6 courses and a 3-credit capstone coaching experience).  Students interested in pursuing a career in coaching, working with coaches, or volunteering as a coach in their local communities are encouraged to complete the minor.  The minor is open to all undergraduate students at JMU. 
Accreditation
The Coaching Education minor is accredited by the National Committee for Accreditation of Coaching Education (NCACE) as a Level 3 coaching education program and is aligned with the National Standards for Sport Coaches.  NCACE accreditation ensures that our program is establishing itself as a leader in the United States in the preparation of coaches and ensures the program prepares coaches to provide quality sport experiences for their athletes.
Questions About the Minor?
Lori Gano-Overway, PhD, CMPC
Program Director and Adviser of the Coaching Minor
Department of Kinesiology
James Madison University
Godwin Hall Office 329
Email: ganoovla@jmu.edu