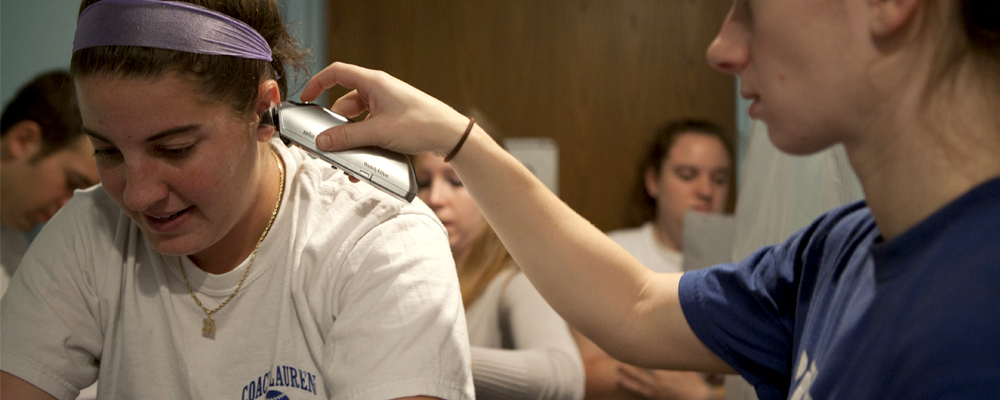 Mission:
The mission of the program is to provide students with a strong theoretical and practical foundation in exercise science. The curriculum is designed to prepare students for graduate education and a wide range of careers in physical activity, exercise, sport, and health.
While working closely with our dedicated faculty and staff, students in the Exercise Science concentration are prepared to become professionals who make a difference in the lives of others through assessing, designing, and implementing physical activity and fitness programs and interventions. Coursework and fieldwork experiences give students training and hands-on experiences needed to evaluate health behaviors and risk factors, conduct fitness assessments, write exercise prescriptions, and successfully promote the adoption and maintenance of a healthy lifestyle.
Our goal is to help you find success in future graduate studies and careers related to exercise physiology, strength and conditioning, physical therapy, chronic disease rehabilitation, fitness instruction, and more.
Coursework:
Classes include basic science courses (Anatomy, Physiology, Chemistry, Physics), exercise science courses (Exercise Physiology, Biomechanics), and applied courses (Exercise Testing and Prescription, Exercise and Nutrition in Chronic Disease, Physical Activity Behavior Change). This is not a comprehensive list of required courses. Many of the courses include a laboratory component.
Practical Experiences:
All students are required to complete two practical experiences, one practicum and one internship, during their program of study. These experiences can be from any area that is related to exercise science; allowing students the opportunity to determine their future area(s) of interest.
Research:
The Exercise Science faculty are very accomplished in production of peer-reviewed research and the program places a premium on including undergraduate students in the research projects. Level of involvement can range from a volunteer to performing an Honors Thesis under the direction of the faculty.