Use the links below to learn more about the beautiful Shenandoah Valley, student-centered campus, and state-of-the-art laboratories and food facilities.
Known as "The Friendly City", Harrisonburg boasts a wealth of cultural, economic, agricultural, and food and beverage destinations, not to mention the beauty of the surrounding Blue Ridge Mountains.  Harrisonburg recently was the 1st recognized "Arts and Cultural and Culinary Districts" in Virginia, a tribute to its 40 block-district of historic downtown.  You can explore the downtown or surrounding area with ease. Harrisonburg is centrally located off I-81, within a 2-hour drive from Washington, D.C. or Richmond, and only 3 hours from Virginia Beach.  For more information, check out www.visitharrisonburgva.com.
Nestled in the heart of the Shenandoah Valley, Harrisonburg is home to James Madison University.  James Madison University ranks 62 on Kiplinger's Personal Finance Top 100 Best Values in Public Colleges and 209 among all public and private colleges in the company's Top 300 Best College Values of 2017. Graduate programs in health and business disciplines at James Madison University are ranked in U.S. News & World Report's "Best Graduate Schools 2018" guidebook.
Health and Behavioral Studies Building
The Health and Behavioral Studies Building is a six-story, 147,033-square-foot building that hosts numerous opportunities for state-of-the-art teaching and research. These include 13 communication sciences and disorders (CSD) research labs, two dietetics teaching labs with state-of-the-art kitchens, a 10-table athletic training lab, a 20-bed nursing skills lab, a six-room hospital simulation lab with high-fidelity mannequins, a 23-bed health assessment lab with anatomical models and many more. Along with these labs, the building itself represents three core themes embodied by the college: visibility, community, and interdisciplinary work. Find more information on our state-of-the-art building.
The Health and Behavioral Studies Building include state-of-the-art facilities and dedicated classroom space where several dietetic food science and food service management courses are taught. The learning laboratory boasts a 12-unit conventional kitchen, a sensory booth, a quantity-scale production kitchen, and a dining room that seats 50.
Integrative Nutrition and Physiology Lab
The INAP in the Department of Health Professions is used for teaching applications, research, and community outreach in the general area of health assessment and physical activity intervention. A broad array of laboratory instrumentation supports the investigation and practical skill application in the areas of body composition, cardiorespiratory testing, isokinetic evaluation of muscular strength and endurance, and energy expenditure. Additionally, the lab supports a variety of physical health assessments that include EKG recording, blood chemistry analysis, pulmonary function, urine chemistry, bone mineral density screening, nutritional analysis, and resting metabolism assessment.
UREC is more than a place to sweat. It is a place to learn about healthy lifestyles and develop positive habits that students can take with them when they leave JMU. UREC is a national leader in the development and use of student learning outcomes in the field of collegiate recreation. The department offers over 300 non-credit educational programs a year as well as credit-based courses.
The UREC Mission is to promote and advance healthy lifestyles through educational programs, participation opportunities, and support services. Our qualified staff is committed to excellence and responsive to the developmental needs of our participants. Our Motto is "Motivating Madison into Motion!" Part of your supervised experiential learning could be working in this amazing facility with the amazing staff. Visit UREC.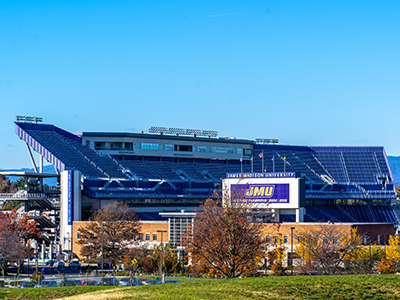 The Robert & Frances Plecker Athletic Performance Center provides JMU athletics with one of the nation's top student-athlete support facilities. The Center houses locker, equipment, office, meeting and reception areas for the football program. It also includes academic support areas used by each of the University's 18 intercollegiate sports programs, state-of-the-art sports medicine (including nutrition) and strength training and conditioning facilities, reception areas that include JMU's Athletic Hall of Fame, and a student-athlete lounge. Part of your supervised Experiential learning could be working in this amazing facility, with the amazing staff, and the 2016 NCAA Division I Football Champions the JMU Dukes!  Visit the Center.
JMU boasts 28 wonderful campus dining locations. JMU is ranked #7 out of 380 colleges for "Best Campus Food" in the Princeton Review and has been nationally ranked for 14 years. Part of your supervised Experiential learning could be working for the best! Visit JMU Dining.