Departmental and Student organization declining balance cards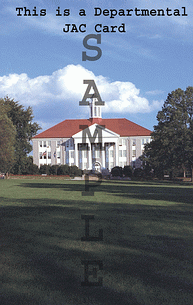 DUKE CARD ACCOUNT (DEPARTMENTAL OR STUDENT ORGANIZATION)
Duke Cards are used by Departments/Student Organizations who wish to use their budget dollars for printing, bookstore, dining and etc. via a card which makes life a little easier on you (the customer) as well as departments that allow you to use their services.
A Duke Card Application/contract must be filled out and signed by the authorizing department head. You can do this by clicking on Duke Card Deposit Form on the Card Services Web Site and ask that a contract be established in your departments name, call us at 86446 or Fax us the completed form at 81749.
If you are establishing a new account we will then fax you a contract that will need to be signed by your department head. You can fax us back the contract as soon as it is signed and we will begin processing your card immediately.
To add deposits to an existing account email Card Services cardsrvc@jmu.edu the Duke Card number and name, as well as the budget number and the amount of the deposit to the specified account(s). Requestor must have signature authority in order to add funds to the account. If requestor does not have signature authority when sending the email they may "copy" an individual that has signature authority for the specified account.
Each Department may choose any or all of the accounts listed below to transfers funds from their budget to ours for spending.
Plan 22 Dining
Plan 34 Bookstore
Plan 35 Printing (Aux.)
Plan 29 Laundry

Plan 28 Postal
Plan 37 Printing (E&G)
Plan 36 UREC Flex
Auxiliary budget numbers begin with the number 3.
E&G budget numbers begin with the number 1.
Grant numbers begin with the number 5.
Local accounts begin with the number 8.
All grant numbers need to be approved with Grants and Contracts Financial Services at 8/8099.
All departments are allowed 2 cards per account number. A fee of $10.00 is charged for additional or lost cards.
We can mail your cards to your MSC or they can usually be picked up within an hour of processing of the contract.
DUKE CARD RENEWAL POLICY AND PROCEDURE:
Every 2 years all current active Duke Card Accounts require a renewal contract to be completed, signed by the Approving Authority and submitted to Card Services. All Approving Authority signatures will be checked against the signature authority approved from the Finance Office.
The process will begin in mid - May when emails are sent out to all account holders reminding them to check their balances to not exceed the $50 rollover policy by the end of the fiscal year.
The information for the contract renewal will be included in the email as well as a link to access the renewal contract.
A second email reminder will be sent mid-June.
At the end of June, JMU Card Services will attempt to notify non-renewals by phone to inform the cardholder(s) that the account will be closed and the balances will be placed back on their budget through an Agency Transfer Voucher (ATV).
After July 1 a list will be compiled and given to the Director of Card Services to approve the closing of the non-compliant card holders. Once the Director approves closing the accounts they will be closed and the remaining funds will go back to the department's budget.
Obtain Online Duke Card Access and Password:
In order to view the Duke Card account activity an email must be sent to Card Services cardsrvc@jmu.edu requesting access.
Card Services will update the information and the following business day the password may be obtained by selecting the Online Services link and select Login.
Follow the Online Duke Card Tutorial to obtain a password to access your Duke Card online.