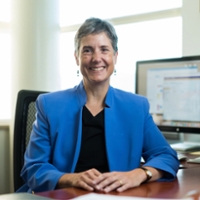 Education
Ph.D. in Molecular Biology, 1990, University of Wisconsin-Madison
B.A. in Biology, 1984, University of Virginia, Charlottesville
Awards and Recognition
AAAS Council Delegate, Section on Education, 2019
PULSE Ambassador, 2018
AAAS Fellow, elected 2016
HERS alumni, 2013
Selected Teaching Activities
Undergraduate Biology curriculum reform including advisory and leadership roles in:
Selected Scholarship Activities
NSF DBI-UBE 1841055, 2018-20, Bauerle, C and S Elrod, Building Leadership Capacity for Systemic, Scalable and Sustainable Change in Undergraduate Biology Education, $74,000.

Asai, DJ and

 

Bauerle, C. 2016. "Doubling down on diversity," CBE Life Sci Educ 2016 15 (3). 
Hanauer, DI and

 

Bauerle, C.

 

2014. "The Faculty Self-Reported Assessment Survey (FRAS): Differentiating Faculty Knowledge and Experience in Assessment", CBE Life Sci Educ 2015 14:ar17.