B.F.A. Art Studio: Printmaking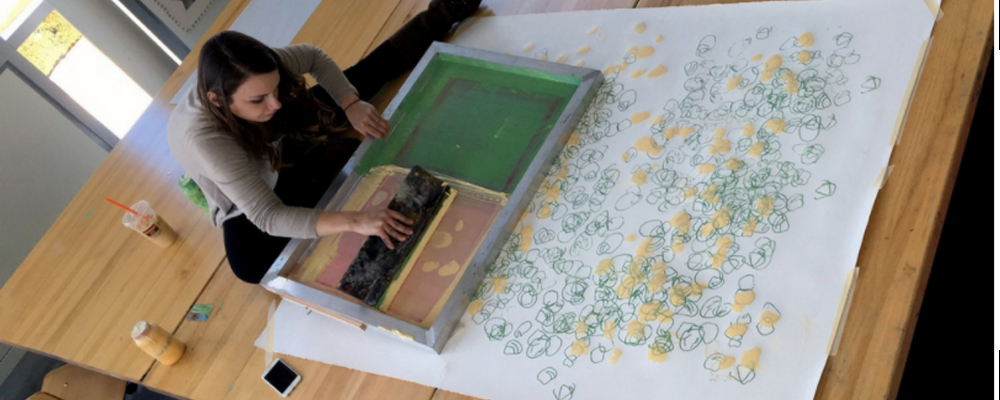 OVERVIEW
We encourage students in the printmaking program to develop a solid technical foundation and still remain open to experimentation and aesthetic self discovery. We emphasize the use of safer printmaking processes and materials. 

JMU printmaking students have gone on to attend graduate programs at the following schools:
Indiana University, Bloomington
School of the Arts Institute, Chicago
University of North Carolina at Chapel Hill
Pratt Institute, Brooklyn
San Francisco Art Institute
California College of the Arts
University of Washington, St. Louis
University of Washington, Seattle
West Virginia University, Morgantown
University of Michigan, Ann Arbor
University of Nebraska, Lincoln
Visual Studies Workshop
Ohio State University, Columbus
Rhode Island School of Design
For more information, 
please contact:
 Jack McCaslin
 Printmaking Head,
 Professor of Art

 mccasljh@jmu.edu


FACILITIES & EQUIPMENT
The Printmaking studios at JMU are located in four rooms on the second floor of Duke Hall. 
(2) Takach Lithography Presses, 26"x48"
(2) Takach Etching Presses, 34"x60"
(1) 19th century Ostrander-Seymour Proofing Press, 20"x26"
(2) Nuarc Single Point Vacuum Exposure Units, 31"x40"
(1) NuArc Flip Top Platemaker, 34"x46"
(6) 27" iMac Computers
(1) HP Laserjet M725dn Color Printer
(2) HP LaserJet Monochromatic Printers
(2) Epson Expression Graphic Arts Scanners
(90) Lithography Stones, maximum 24"x36"
(2) Hydraulic Studio Scissor Lifts
(2) Millington Machine Company Light Tables, 40"x60"
(2) Gran Adell Drying Racks, 32"x48"
(1) Hydrobooth Washout Booth with pressure washer
(2) Professional Grade Hot Plate, 24"x36"
(1) Metal Shears, 36"
(1) Dahle 30" Large Format Guillotine Cutter
(1) Custom Graining Sink
(160) Flat File Drawers