Welcome to the School of Art, Design and Art History at James Madison University.
Students pursuing art, design and art history degrees at SADAH gain all the perks of a liberal arts education on a large university campus while reaping the benefits of a smaller school.
SADAH offers small class sizes taught by professors who are working professionals in their areas of study. Students build peer-mentor relationships with SADAH faculty that foster them through their foundational semesters and launches them towards internships, job opportunities and graduate programs in their junior and senior years.
Today, SADAH is a truly collaborative and interdisciplinary community that fosters independent thought and creativity. We celebrate the transformation of material to expression; of student to artist, designer, teacher and scholar; we recognize the power of visual art to inspire the imagination and illuminate the human condition.
---
1908: SADAH's history begins when the Normal and Industrial School for Women at Harrisonburg opens its doors to teach art in the context of the manual and industrial arts.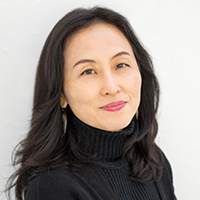 MiKyoung Lee
Director of the School of Art, Design and Art History & Professor of Art
Duke Hall 1011D
lee28mx@jmu.edu
(540) 568-7330
Accreditation
In addition to JMU's general accreditation, all SADAH undergraduate and graduate degrees are professionally accredited by the National Council for Accreditation of Teacher Education and the National Association of Schools of Art and Design.
NASAD is the only accrediting agency recognized by the U.S. Department of Education that covers the whole field of art and design; it provides a basis for public recognition of an institution's quality. JMU has been accredited by NASAD since 1981.
Mission, Vision, Goals
Mission
We collaborate as creators and scholars to advance diversity and independent thought through rigorous practice and research.


Vision
To radically transform ourselves and our communities through creative and scholarly work:
to evolve the new
to navigate the unknown
to build capacities
to dare
Values
In pursuit of the vision and he mission, the School of Art, Design and Art History supports the development of ethical character in our students by promoting the following values: excellence, integrity, mutual respect, learning, personal growth, personal engagement, accountability, responsibility, collaboration, global awareness and diversity.
Goals
The School of Art, Design and Art History discerns the following five distinct teaching goals:
To prepare future professionals with a global perspective.
To develop and license future leaders in the field of education.
To enrich the general education of the JMU community.
To offer professional instruction for students who wish to enrich their education with a second major or minor.
To present outstanding contemporary exhibition programs.