Cameron Hale
Class of 2022
Major: Nursing
Hometown: Roanoke, Virginia
High School: Roanoke Valley Christian
Highlights: Transferred to JMU; Spikeball; club climbing; as many intramural sports as he can manage; loves the family atmosphere at JMU; says the friendships made and the fun had through all his adventuring have been a perfect balance for the rigor of the nursing curriculum
Cameron Hale was skiing at nearby Massanutten Resort when he learned of JMU.
He says the idea that a university with his major was only 20 minutes from such a cool ski resort blew his mind.
Little did he know what else was in store for him. The results include a nursing degree, lifetime friendships and an endless love of all things outdoors. 
---
What are some of your favorite things to do off campus?
On the weekends, we really like to go skiing in the winter and snowboarding, whether it be at Snowshoe in West Virginia or just down the road at Massanutten. When the weather gets warmer, we'll go down to Hatteras Island for the weekend and surf there or Virginia Beach, depending on what the waves are doing. And then sometimes with a lot of people, especially through our Adventure Center, they'll go climbing because there's a lot of great climbing spots outdoors around here. And we'll go do that for the day and just come back or we'll camp somewhere and climb for the whole weekend.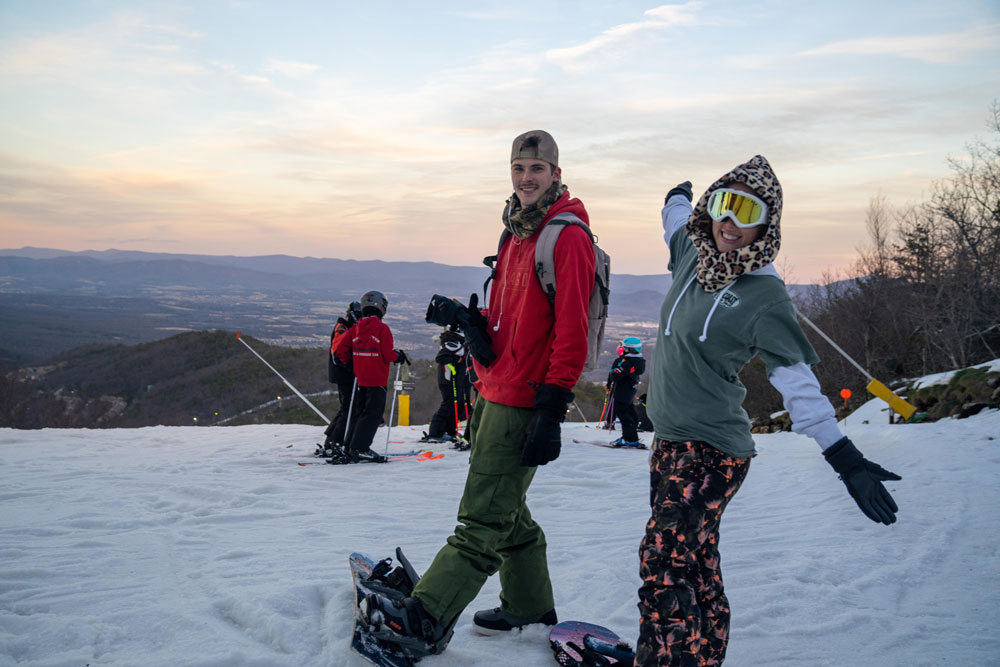 Talk about JMU's University Recreation Adventure Center.
A lot of people just think it's a climbing gym, which it is and that's a huge awesome part about UREC, but what a lot of people don't realize is that we also host a lot of trips from there. The staff plans so many things—camping trips, canoeing trips, canoeing and camping trips at the same time, paddleboarding trips, hiking trips, climbing trips, ski trips.
Do you have to have your own outdoor equipment?
We have a rental section of the Adventure Center where you can pretty much check out everything you might need for free. There's camping gear, stoves, sleeping bags, tents, whatever it may be. We have paddle boards, kayaks, canoes—so that way you can enjoy all these awesome things that we have around us.
Describe a cool lake place that's close by.
There's a spot about 30 minutes from here and the drive's very beautiful getting there. It's called Switzer Lake. It's a great place to go and park your car and then get out all your camping supplies, put a tent up, camp and then bring your canoe, bring a kayak or paddleboard or whatever it may be. And usually we just kayak or swim or paddle to the other side of the lake. And there's this really cool spot where you can like jump off the rocks and stuff.
JMU sounds like quite the location.
A lot of people don't know this, but West Virginia is only like a 30- to 45-minute drive from here and you cross the border, and you're right in West Virginia, which has a ton of beautiful hikes and beautiful camping spots and a lot of great climbing. And then, in terms of the beach, Virginia Beach is about four hours from here and Hatteras Island about five and a half hours—those are a haul, but not long enough to keep us away from them.
"It's been really cool to see someone come in, it's their first time climbing ever. And then they fall in love with the sport. And the next thing you know, they're wanting to go on outdoor trips and you see them full-sending it like on a route that you're like, wow. I did not see them doing that a month or two ago."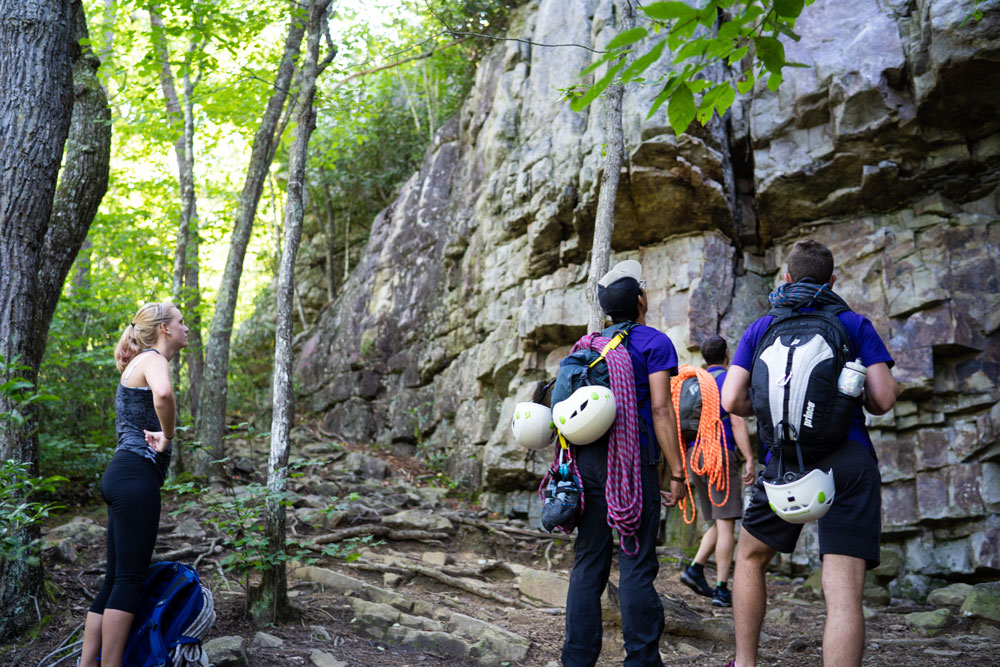 Is UREC more than just a gym?
Unlike other colleges, it's not just like a weight room, essentially, where you can just go lift and exercise. There are a ton of fun activities to do. I'm biased because I work in the Adventure Center, but the whole place is amazing.

Ready to explore more? We are so excited to help you learn more about our beautiful campus! Please join us for an in-person information session, a guided tour, or a self-guided tour. We look forward to welcoming you to campus.