Discover the world at JMU
Getting into the outdoors offers marvelous opportunities for you to surround yourself with beauty, fun and peace. Check out this story of one JMU student who has found her place in the outdoor community and loves to share it with anyone who is willing to explore.
---

Caroline Merrick
Class of 2021
Major: Interdisciplinary Liberal Studies
Minors: Elementary Education; Teaching English to Speakers of Other Languages (non-licensure)
Hometown: Mechanicsville, Virginia
High School: Atlee High
Highlights: Has tutored an immigrant family from Tanzania all four of her JMU years; credits JMU Assistant Director for Adventure and TEAM Programs Guy DeBrun for having encouraged her growth as an outdoor rec leader; swam and danced in high school


"I am definitely more at peace and calm when I am outside. I definitely get more relaxed."
Nature is pure magic.
Just ask Caroline Merrick, who actually didn't uncover her passion for being in the outdoors until she made her way to JMU.
As Merrick tells it, the people she has encountered during her time as a University Recreation Center employee helped her come to see the outdoors in a whole new light.
"It's a really awesome, welcoming group of people," she says of her UREC outdoor friends and also the entire greater Harrisonburg outdoor recreation community. "They are just chill and fun to be around, and it makes going on adventures and sometimes getting outside your comfort zone with trying new skills so much easier to get involved with."
The list of Merrick's 50+ JMU outdoor trips reads like a Who's Who of Virginia outdoor recreation destinations. Stand-up paddleboarding at Switzer Lake and on the South Fork of the Shenandoah River, whitewater kayaking on the James River at Balcony Falls, hiking at Massanutten Peak and Old Rag top the list. "I think I've hiked High Top like 30 times," laughs Merrick.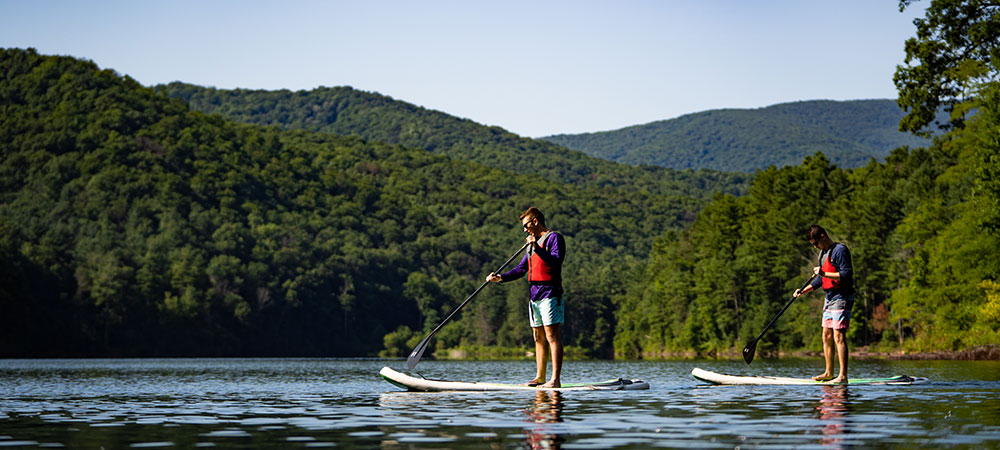 The best part of being an outdoor recreation trip leader for Merrick is the looks of surprise on so many of the first-time trip participants' faces.
"You drive them down a dirt road that has all these potholes and they're like, 'Where are you taking me?' And then as we roll around a corner and they see where the mountains open up and the lake is, then it's just the best shock on their faces and 'we had no idea stuff stuff was right outside Harrisonburg,'" she says.
The favorite trip she's led is stand-up paddleboarding at Switzer, Merrick says, adding that she loves to see new trip particpants "mesh with the environment."
Merrick is slated to earn a master's degree from the University of Virginia, but first up is a year-long stint with a completely outdoor preschool program called The Appalachian Forest School.
The outdoor preschool combines "two of my favorite things—kids and being in the outdoors," Merrick says.
Nature's pure magic awaits.