Lachlan Hudson
Class of 2022
Major: Engineering
Minor: Asian Studies; Robotics
Hometown: Centreville, Virginia
High School: Centreville High School
Highlights: Filipino Americans at Madison; Resident Assistant; Club Ultimate, LEAD team consultant at the Student Leadership Center; Leadership in Action program coordinator; JMU Autonomous Golf Cart undergraduate researcher; and an independent study on The Autonomous Inspection System for Railroads Robotic Capstone
For Lachlan Hudson, JMU has been a path to discovery.
A self-described introvert, Hudson has found that diving head-first into a wealth of different clubs, organizations and leadership opportunities is the way to steady growth.
Hudson says getting involved both inside and outside the classroom is the ticket to getting the most from the Madison Experience.
---
What clubs did you find early on at JMU?
I sort of picked up a few items that me and my friends all agreed on that we could go and visit whether it was joining a random Dungeons and Dragons Club or looking at the Chocolate Milk Mondays Club. I found a lot of interest in different activities. And I tried my best to sort of dive in head-first with as many as I could.
That didn't mess you up with your classes?
While I was very busy taking my classes, it was really important for me to balance that. I think the getting involved aspect early on is probably the most important part that I think more people can and should take advantage of.
What's your elevator speech for incoming students for getting involved?
The first thing I did when I got to JMU was I asked my First-Year Orientation Guide, "Hey, what's available for me? These are my interests. What do you think?" And he gave me a list of different items to look at and also to check the BeInvolved website, which is really helpful because I was able to sort things based off my interest, whether it's athletics, or social clubs or development or service, and I was able to really figure out the individual niche that I wanted to find at JMU.
"Initially, I was concerned about finding my community here at JMU. But I was able to pick from different groups that I really enjoyed being with—whether it was the nerds in one area or the geeks over here or the athletic people over there. I really feel like no matter what way you classify yourself, there is a group of people for you."
What did you do from there?
I then went to the fall Student Organization Night off a recommendation from my RA at that time, where I was able to find different organizations, including Filipino Americans at Madison—or FAM—which I joined very promptly, as well as some of my interests from high school such as Ultimate Frisbee.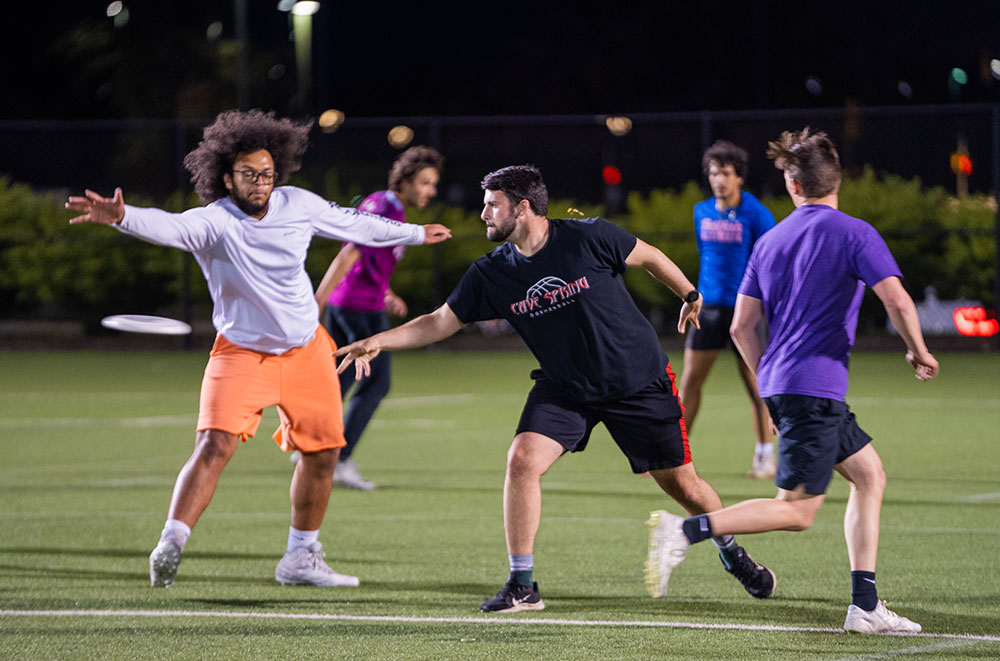 How did you decide how many clubs to join?
I definitely think that people should really push forward at Student Org Night and try to get their name on as many email lists, even if that can be a lot at some times, especially when you're trying to adjust to JMU. Getting involved as much as you can—such as with my Club Ultimate and FAM—I was able to find communities that agreed with my values. I think that is a really empowering aspect of being in clubs here at JMU.
Has being so involved helped you learn?
I've gotten involved with different things that are both professional development and social development. I've always thought that the academic experience can be more than just in the classroom. I also did some professional development experiences such as working as an RA on campus for multiple years all the way from sophomore to super senior year. And I did some research projects that have helped benefit the community locally as well as mentoring younger engineering students and their process to get through their capstone projects. And lastly, I've also gotten involved heavily in leadership, which I never thought I could, especially coming from high school where I was a smaller fish in a big pond. And I did some mentoring for my robotics team. But I really got to grow into my own leadership style while working at the Student Leadership Center, a resource that all students have access to.
It sounds like you've become quite the effective leader.
When I came to JMU, I never saw myself doing leadership, especially the development of leadership and others, mainly because I didn't know if I had the potential to be a leader. I very much fell into the category of oh, if you're not that loud person at the front of the room, you're not a leader. Well, I've steadily learned throughout my time training and working with other students ithat you can be a leader from the front of the room, or you can be a leader from the back of the room. It's all about how you place yourself, how you communicate with others and how you share a vision with everyone else around you. I believe that with time and with the amount of effort I've put into my development skills, I've learned about the ways I can better develop others.

Ready to explore more? We are so excited to help you learn more about our beautiful campus! Please join us for an in-person information session, a guided tour, or a self-guided tour. We look forward to welcoming you to campus.