Endless horizons
What were you London program options ?
For the London study abroad, you could either choose four classes or you could do three classes and an internship. I did three classes and a 15-hour-a-week internship, so basically I had classes Monday and Tuesday and then the internship basically 9 a.m.-5 p.m. or so Wednesday and Thursday. 
Talk about your internship.
I was with this nonprofit called SIX—Social Innovation Exchange. They work with governments, universities, leading engineers and scientists, venture capitalists and multinational corporations. What happens is that SIX brings all these players together to solve super intricate social networking problems like gender inequality and the wealth gap.
What did you do for the company?
What I did for them was manage a lot of their web presence. I developed a new content posting schedule for them. I created a workshop that was intentional about pinpointing their key messages, and I also developed an explainer video for exactly what the company does.
Did you have a favorite among your London classes?
My theater class absolutely changed the way I look at theater, and you could say the way I look at the world. I was never even interested in theater before this class.
That sounds like a seismic impact.
We would read a play the night before, then analyze it during class and then go see that play that same night on London's equivalent of Broadway. It was incredible to do what we did. It truly gets you thinking about society and how we interact with one another. And our professor Tina Fox was a play critic for The Guardian and has been teaching the class for more than 15 years. With her background, she was particularly amazing.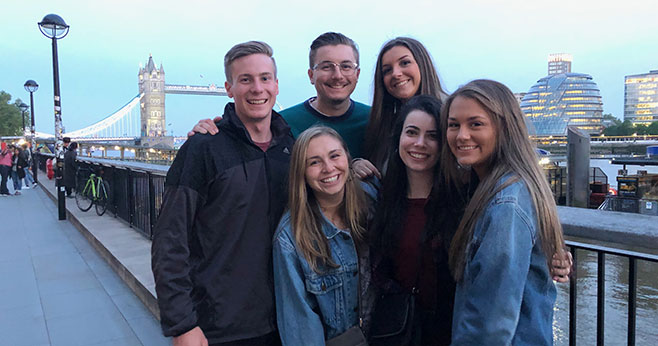 "Even though I knew exactly what I wanted to do, studying abroad through JMU has still opened my eyes to so many new areas and new experiences."
Did another London class stand out for you?
Media and Society was amazing, too. You're in a class getting lectured on some of the ways that the media influences society and influences London. It was also when British Prime Minister Theresa May was stepping down, so there was lots to talk about and analyze. So, after the hour-and-a-half class, we would head for an outing and the professor would show us things like old newspaper sites and we would discuss the way that London society once functioned and how much it has changed and the role media has played in that change. It was fascinating.
Was it scary going abroad for the first time?
Getting on the plane to fly over, I was like, 'Dang, I'm going to be living in this other country for two whole months." It was a little intimidating for me because I'm from a rural section of Virginia and it was my first time overseas, but man did it all work out for me by the end. 
Why study abroad?
I actually came into JMU knowing that I wanted to do a study-abroad experience. By choosing to study in London, I was able to get two Media Arts and Design credits and one General Education credit punched out for myself. 
London sounds pretty amazing.
You walk down the street and people are speaking 10 different languages. You don't know what the heck they're saying, but you love it. I personally got love fast-paced things. I love people who are getting stuff done. And as funny as it sounds, I loved pushing my way into The Tube in the morning when I was getting going to my internship. You literally have to shove your body in, you're right up against people and like everyone just in their own world. The first time I did that, I had a smile on my face the whole way. I was like, I'm going into work like in London and this is so awesome. It's really exciting just having the buzz of people all around you. Also, the people that I met at work just opened my eyes so much, hearing people's stories from all the different cultures.
What made you decide to on JMU?
I came to JMU pretty much knowing exactly what I wanted to do. I wound up at JMU in part because I Googled "Best Film Schools in Virginia," and then I visited JMU first and I just knew it was for me.
How has JMU changed you?
Even though I knew exactly what I wanted to do, having been at JMU has still opened my eyes to so many new areas and new experiences. This entrepreneurship minor in the College of Business is a perfect example of that. It's so cool because this whole experience had made me want to learn so much more. Coming in here, I think I seriously thought, "I'm just going to be the camera guy. I'm just going to be the film dude." My whole Madison Experience has made me want to keep learning forever. Now, I feel as if my horizons are truly endless.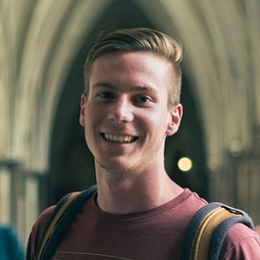 Kyle Miller
Major: Media Arts and Design
Minor: Entrepreneurship
Hometown: Purcellville, Virginia
High School: Woodgrove High
Highlights: Studied abroad in London and also did a 15-hour-per-week internship while there; SIX, also known as Social Innovation Exchange, was Miller's London internship venue; knew JMU was his first choice for college, and was still impressed by what he found