You are in the main content

---
What is it 

like to be a globally-minded student 

at JMU?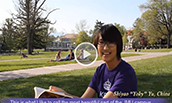 Applying as an International Student
You will find a place for yourself here
JMU hosts more than 425 international and foreign-born students from 75 different countries. The countries from which the greatest number of students originate are Korea, China, India, Vietnam and the United Kingdom.
Topics 
Discover JMU
Learn more about Madison's location in the beautiful Shenandoah Valley, rigorous academic programs, rankings and recognitions and our affordable tuition and fees.
International Admissions Process
Please Note: 
 Graduate students should visit our Graduate School for application information.
U.S. citizens living abroad and students living in U.S. territories should follow the same application process as domestic students.
PDF Translations: Download and read our admissions process.
Chinese (Mandarin) Hindi Korean


Russian Spanish Vietnamese
International undergraduate applications are accepted on a rolling basis. See below for application guidelines.
Application, submitted online or by mail (download ).
Transcripts or statement of marks of all secondary and post-secondary education, translated into English. Transcripts must be complete. For applicants still enrolled the transcript or statement of marks must also include grades for the most recent term. The transcript must be an original copy certified by the sending institution.
Excellent class rank and an academic background that shows a strong program of study.
One letter of recommendation.
Proof of English language proficiency in ONE of the following ways:


For applicants who meet all other admission requirements but lack the necessary TOEFL or IELTS score, the student may enroll in the English Language Transition Program.
TOEFL scores for applicants from non-English speaking countries. The TOEFL scores must be sent directly from Educational Testing Services to the Office of Admissions. Please specify the JMU CEEB code (005392) on the testing form.   
Minimum test scores: 550 paper-based TOEFL, 80-81 Internet-based TOEFL.
SAT score of 500 on the Critical Reading Portion of SAT exam.
IELTS score of 6.5 - 7. Submitted scores must be directly from IELTS. Student copies will not be accepted.
Submission of a General Certificate of Secondary Education or General Certificate of Education "O" level in English language.
Possession of an American associate's or bachelor's degree equivalent from an accredited institution located in a country where English is the native language.
Graduation from an accredited high school in a native English-speaking country where the applicant has resided for at least four years.
For applicants who meet all other admission requirements but lack the necessary TOEFL or IELTS score, the student may enroll in the English Language Transition Program.

Financial certification form (download ). This form must be completed by the student's sponsor or financial guarantor and submitted with the requested documents.
Standardized test scores (optional): Scholastic Aptitude Test (SAT) or American College Testing Assessment (ACT).
Copies of your temporary visa documents.
Applicants from China: We recommend that applicants participate in a third-party interview which gives you the opportunity to discuss your academic and personal background. Companies such as InitalView can conduct interviews. Interviews must be completed and submitted prior to the International Application deadline of April 1st.
$60 application fee.
Finances
Tuition
Tuition & Fees :    
$24,722 per year

  

Insurance
$1,232
Room and Board:
$8,828 per year
Books/ Personal:   
$1,500
Internet     
$60 Paid once initially
Orientation fee    
$180 Paid once initially
Yearly total:  
$36,522

Financial certification amount required for I-20: $37,000



Financial Aid & Scholarships
James Madison University awards tuition grants to international applicants who demonstrate financial need and academic excellence. The awards are granted each year ranging from $500 - $13,000. We use your application for admission, transcripts and test scores to make scholarship decisions; there is no separate scholarship application required to be considered for these tuition grants. Those who apply by February 15 will be given priority consideration for financial awards.
International Dates and Deadlines
Fall Term (Aug. – Dec.)
April 1 - Application deadline for all pieces (application, transcripts, etc.)
Spring Term (Jan. – May)
October 1 - Application deadline for all pieces (application, transcripts, etc.)
Summer Term (Jun. – Jul.)
January 1 - Application deadline for all pieces (application, transcripts, etc.)
Need to Improve Your English First?
For students whose academic qualifications meet the entry requirements, but whose English is not yet proficient, it is possible to be admitted to JMU with enrollment and successful completion of our intensive English Language Transition Program.
If our English Language Transition Program is not a good fit, JMU also has a partnership with Eastern Mennonite University, a smaller university located in the same city as JMU. EMU's Intensive English Program is another option for transitioning to coursework at JMU.
Education USA
Get special assistance applying from outside the USA. Learn more »
Cambridge International Program
Students who participated in the Cambridge International Examination program can earn college credit at JMU. View the 2012-13 Undergraduate Catalog for CI exam listings, required scores, and more information.
Obtaining Transfer Credit
If you have taken courses at a non-U.S. college or university and would like to apply for transfer credit, you must first have your transcripts translated by a global evaluation service and sent to JMU. JMU accepts evaluations from any organization that is a member of NACES, the National Association of Credential Evaluation Services. View list of NACES members.

You should direct your global evaluation service to send a copy of your evaluation directly to JMU at the following address:
James Madison University
Office of International Admissions
MSC 0108
481 Bluestone Dr.
Harrisonburg, VA 22807 USA
Please Note: The global evaluation is simply a translation of your work. It is not a guarantee of credit. JMU will complete an evaluation of credit after the translated transcript is received and an offer of admission has been made.