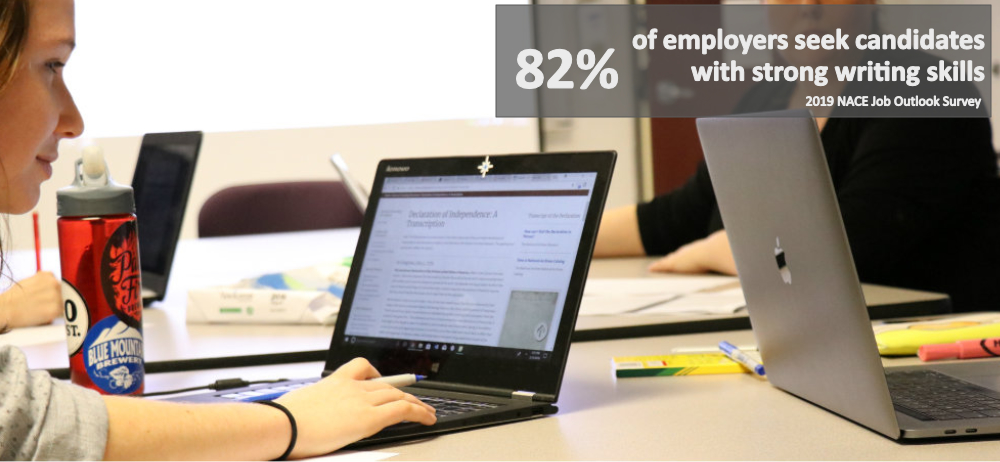 The WRTC Minor
The 18-credit minor in Writing, Rhetoric and Technical Communication is open to all JMU undergraduate students. 
The WRTC minor complements all majors and is designed for students who wish to extend, enrich and formalize their education as writers and communicators.
WRTC minors work through a set of four core courses offered every semester and choose two courses from a long list of electives that offer opportunities to focus in on literacy practices, research methods, rhetorical traditions and analysis, personal and civic writing, writing pedagogy, digital and social media, content strategy, user experience (UX), scientific and medical communication, website theory and design, publication management, technical writing, grant and proposal writing, editing, and more.
For WRTC minor requirements and links to descriptions of the WRTC minor's core courses, consult the JMU Catalog's "Writing, Rhetoric and Technical Communication Minor" page.
Declare your WRTC minor
Log into MyMadison Student Center
Select Major/Minor Change from the "Other Academic..." dropdown menu
Select Add Major/Minor
Search for WRTC (make sure that Academic Plan Type is "minor")
Submit Request
Applicants will be notified of program admission following a review of their request. Program admission is required to enroll in WRTC minor core courses.
For more information
If you are thinking about minoring in Writing, Rhetoric and Technical Communication, welcome!
Contact Shelley Aley, WRTC's Minor Adviser, with any questions and for more information: aleysb@jmu.edu
If you have already declared your WRTC minor, congratulations!
Declaring your WRTC minor and being admitted into the WRTC minor are not the same thing. If you plan to enroll in WRTC minor core courses in the coming semester, you should aim to declare your minor at least a week before your course registration window/appointment opens.

After you've been admitted to the WRTC minor, Dr. Aley should be listed on the right side of your MyMadison Student Center homepage as your WRTC minor adviser. Dr. Aley can help you plan your WRTC minor core courses and elective opportunities.

WRTC 200 and WRTC 201 introduce the WRTC minor and are a gateway for the other minor core courses and many WRTC minor electives.