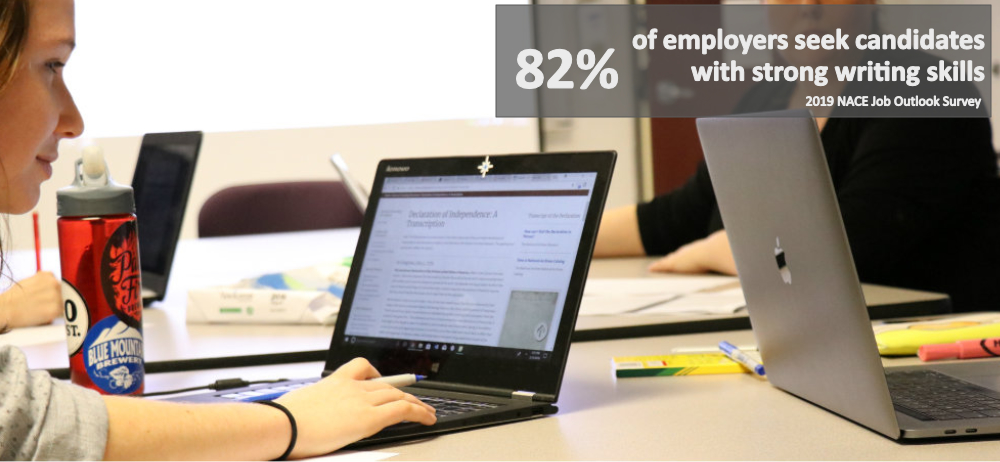 The WRTC minor
The 18-credit minor in Writing, Rhetoric and Technical Communication is open to all JMU undergraduate students. 
The WRTC minor complements all majors and is designed for students who wish to extend, enrich and formalize their education as writers and communicators.  
Required Courses (12 credits)
WRTC 200: Introduction to WRTC (Prerequisite: WRTC 103)
WRTC 201: Theory and Methods in WRTC (Prerequisite or corequisite: WRTC 200)
WRTC 300: Professional Editing (Prerequisites: WRTC 200 and WRTC 201)
WRTC 301: Language, Law and Ethics (WRTC 200 and WRTC 201)
Elective Courses (6 credits)
Minor electives may be chosen from the following list. Please check availability prior to registration each term.
WRTC 310: Semiotics
WRTC 312: Studies in Literacy
WRTC 314: Writing in the Public Sphere
WRTC 316: Research Methodologies in WRTC
WRTC 318: Intercultural Professional Communication
WRTC 326/SCOM 354: Environmental Communication and Advocacy
WRTC 328: Practicum
WRTC 330: Rhetorical Analysis and Criticism
WRTC 332: Digital Storytelling
WRTC 334: Introduction to Popular Writing
WRTC 336: Writing Consultation
WRTC 338: Genre Theory
WRTC 340: Writing as Leading
WRTC 342: Writing Place
WRTC 350: Foundations of Technical Communication
WRTC 352: Online Design I 
WRTC 354: Document Design
WRTC 356: Web Theory and Design
WRTC 358: Writing About Science and Technology
WRTC 412: Content Strategy
WRTC 416/SCOM 465: Rhetoric of Environmental Science and Technology
WRTC/WGS/SCOM 420: Feminist Rhetorics
WRTC 426: Special Topics in Writing, Rhetoric and Technical Communication
WRTC 430/SCOM 343: Contemporary Rhetorical Theory and Practice
WRTC 432: Rhetoric of the Personal Narrative
WRTC 434: Advanced Popular Writing
WRTC 436: Teaching Writing
WRTC 450: Digital Rhetoric
WRTC 452: Online Design II
WRTC 454: Publication Management
WRTC 456: Usability Testing
WRTC 458: Scientific and Medical Communication
WRTC 460: Legal Writing
WRTC 462: Government Writing
WRTC 480: Writing for Business and Industry
WRTC 484: Writing for Nonprofits
WRTC 486: Writing in the Community
WRTC 488: Writing in the Health Sciences
82%
of employers seek candidates with strong writing skills
2019 NACE Job Outlook Survey
---
To apply:
Log into MyMadison Student Center
Select Major/Minor Change from the "Other Academic..." dropdown menu
Select Add Major/Minor
Search for WRTC (make sure that Academic Plan Type is "minor")
Submit Request
For more information, contact:
Dr. Shelley Aley, WRTC Minor Adviser
aleysb@jmu.edu 
Harrison Hall 2293
540.568.6162