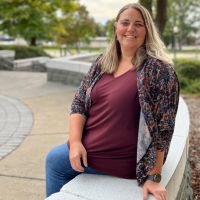 Education
Ph.D., English, Writing and Rhetoric, Bowling Green State University, 2008 
M.A., English, Rhetoric and Composition, Eastern Kentucky University, 2001
B.A., Journalism, Eastern Kentucky University, 1997
Professional Focuses
Feminist methodologies; feminist rhetoric; community engagement work; rhetorical theory.
Publications
"Gen Ed Girlhood: Artifact-centric Approach Invites New Students to Girlhood Studies." Girlhood Studies, 15.3 (2022), 99-112.
"Non-Negotiable Inclusivity: Chronicling the Relational, Embodied Work of Antiracist, Accessible Conferencing." Co-authored with Mudiwa Pettus, Ruth Osario, Patrick Thomas, Sherita Roundtree and Jessica Enoch. Writers: Craft and Context, 3.1 (2022), 45-57.
"Strolling Facebook: The #Rural Facebook Flâneur seeks and shares beauty in the ugliness of Covid." The Journal of Multimodal Rhetorics. Spring 2022, 6.1-2.
"Mapping Tensions: Positioning Community Engagement Challenges as Generative Space." Co-authored with Jennifer PeaksMease, Iona Black, Kerry Cresawn, Steve Grande, and Juhong Christie Liu. The Journal of Community Engagement and Scholarship. 14.2 (2022). 
"Transforming Identities: Theorizing place(s) and spaces(s) in community engagement pedagogy." Journal of Higher Education Outreach and Engagement, 25.4 (2021), 59-73.
"Invaluable, but Invisible: Conference hosting as vital but undervalued intellectual labor." Co-authored with Traci Zimmerman. Journal of Multimodal Rhetorics, special issue "Invisible Labor of the Academy." 4.2. Winter 2021. 
"Not Your Mother's Tech Camp: Rebooting Girls' Technology Camps to Equip the Next Generation of Technofeminists." Computers and Composition, special issue "Technofeminism: (Re)Generations and Intersectional Futures. 51(2019): 55-67.
"Training Technofeminists: A Field Guide to the Art of Girls' Tech Camps." Co-authored with Jen England. Computers and Composition Online. Fall 2015-Spring 2016.
"The f-word: A decade of hidden feminism in Kairos." Co-authored as class project with Hillary Chester, Rachel Fisher, Kortney Frederick, Troy Fultz, Julia Germain, Tyler Haas, Judy Hong, Meghan Lavin, Sierra McAliney, Peggy Michel, Allison Michelli, Mallory O'Shea, Samantha Perez, Mary Pitts, Morgan Shaughnessy, Kinzie Stanley, Brooklyn Steele, Kelly Vingelis, Chelsea Weatherhead. Kairos: A Journal of Rhetoric, Technology, and Pedagogy. 20.2 Spring 2016. 
"Collecting Girlhood: Pinterest Cyber Collections Archive Available Feminine Identities." Girlhood Studies. December 2015, vol. 8.3, 6-22.
"A Rhetorician's Guide to Love: Online Dating Profiles as Remediated Commonplace Books." Computers and Composition. June 2014.
"Virtual Teaming: Crossing Borders and Faculty Collaboration in Online Spaces." Co-authors Natalia Rybas and Sergey Rybas. Kairos: A Journal of Rhetoric, Technology, and Pedagogy. January 2013.
"Producing Local Knowledge: The Grad Class Assignment as Curricular Outreach." Co-authored as class project with Tanya Allred, Jennifer Bracken-Scott, Bonnie Chapman, Nate Daniel, Emily Hernandez, Robin Korody, Bryan Lindenberger, Santiago Lopez, Seth Meyers, Omar Montoya, and Frances Walker. Computers and Composition Online: Fall 2010-Spring 2011.
"Making Blogs Produce: Using Modern Academic Storehouses and Factories." Computers and Composition Online. Fall 2006.
Book Chapters
"Archiving as Learning: Digital archives as heuristic for transformative undergraduate education." In Unsettling Archival Research, edited collection by Gesa Kirsch, Romeo García, Caitlin Burns and Walker Smith. Southern Illinois Press, 2023, 240-259.
"Organic Mentorship: Feminist model of mentoring as strategy to support scholars and leaders." Co-authors Meg McGuire and Kristine Blair. In Surviving Sexism in Academia: Strategies for Feminist Leadership, edited collection by Holly Hassel and Kristi Cole. Routledge, 2017, 216-224.
"Getting 'Girly' Online: The Case for Gendering Online Spaces." In Handbook of Research on Writing and Composing in the Age of MOOCs, edited by Elzabeth Monske and Kristine Blair. IGI Global: Hershey, PA. 2017. p 87-105.
"Multimodal Methods for Multimodal Literacies: Establishing A Techno-Feminist Research Identity." Co-author Kristine Blair. In Composing (Media) = Composing (Embodiment), edited collection by Anne Wysocki and Kristin Arola. March 2012.
"Exercising Opinions: Gamer Girls Push Back Against Video Game Depictions." Co-authors Rachel Gallagher and Michelle Garza. In Girls, Cultural Productions, and Resistance. edited by Michelle Bae and Olga Ivashkevich. July 2012. 
Funded Grants
YALI Africa Project. Funded ($415,000) by United States Agency for International Development. WRTC is partnering with Center for International Stability and Recovery (CISR), the College of Business and the African and African American and Diaspora Center on a grant-funded program to assist the South Africa-based organization YALI Africa. Began with a Writing for NonProfits course in Summer 2022 in which students conducted a social media audit and needs assessment for YALI. In Spring 2023, LoriBeth De Hertogh, Ja'La Wourman and I will offer a series of workshops for YALI staff on social media strategies and branding.
Girlhood Remixed: Technology and Identity. Funded ($2,012) by the Hancock Family Foundation. The project encourages girls age 11-14 to develop digital literacy and gain access and agency with technology. Began with a series of after-school workshops in the Spring 2012, culminated in a four-day summer camp held on the NMSU campus July 25-28, 2012.
The Digital Mirror Computer Camp for Girls. Funded ($10,000) by American Association of University Women National Community Action Grant. Jen Almjeld, Kristine Blair, Erin Dietel-McLaughlin, Meredith Graupner. May 2008.