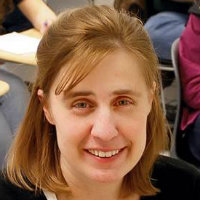 Education
Ph.D., Rhetoric and Composition, University of Louisville, 2003
M.F.A., Creative Writing, University of Texas at El Paso, 1999
B.A., English, University of Iowa, 1993
Professional Focuses
Literacy studies, ESL writers, participatory action research, rural rhetorics, social justice
Publications
Breneman, Daisy L, Susan Ghiaciuc, Valerie Schoolcraft, Keri Vanderberg.  "I am different/So are you: Creating Safe Spaces for Disability Disclosure (A Conversation)".  Negotiating Disability: Disclosure and Higher Education, University of Michigan Press (expected Spring 2017)
Kerschbaum, Stephanie L., Rosemarie Garland-Thomson, Sushil K. Oswal, Amy Vidali, Susan Ghiaciuc, Margaret Price, Jay Dolmage, Craig A. Meyer, Brenda Brueggemann, and Ellen Samuels. "Faculty Members, Accommodation, and Access in Higher Education." Profession (December 2013). Web. http://profession.commons.mla.org/2013/12/09/faculty-members-accommodation-and-access-in-higher-education/.
Breneman, Daisy, Susan Ghiaciuc, Scott Lunsford. (2012) "That Racket Down the Hallway: Shattering Silences Through Narratives of Inqueery." Writing on the Edge 23, 85-95.
Ghiaciuc, S. (2011) "Invisible Authenticity: Ethos and the E-patient" Disability Studies Quarterly.
Ghiaciuc, S., McIntyre, E., Kyle, D. (2005) "Conflicts and Challenges," Journal of Urban Learning and Teaching 2, 1-18.
McIntyre, E., Sutherland, M., Ghiaciuc, S., Kyle, D. (2003) "Asserting Identities in Multiple Contexts." 52nd Yearbook of the National Reading Conference, 285-294.  
Cited in McKinney, M & Giorgis, C. (2009) "Narrating and Performing Identity:  Literacy Writing Specialists Identities." Journal of Literacy Research 41: 104-149.