The Valley Scholars Program will provide tuition and support to students in the Shenandoah Valley — and they depend on the generosity of supporters like you.
Help our students and community reach their goals by making a donation. Help make an impact in our community. Find out about donations given in honor or memory of someone, planned giving, workplace or employee giving, and corporate giving or sponsorship.
Who We Serve
We serve middle and high school students in Augusta, Page, Rockingham and Shenandoah Counties and Harrisonburg, Staunton, and Waynesboro Cities.
What We Do
We invest time, energy and resources into each student to ensure that they can be successful in achieving a four-year degree. This model includes sequential outreach and enrichment for each grade level and then provides financial support for college tuition and fees at the completion of the program and admittance at James Madison University.
Why It Is Important
College can mean the difference between leading a productive and meaningful life on the one hand or becoming vulnerable to circumstances on the other.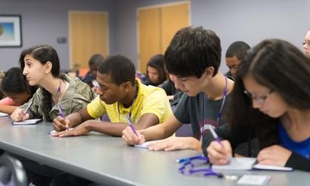 Why we need your support
JMU, local middle and high schools and the duPont Foundation have funded the first three years of Valley Scholars. That's 35 students each year from eight local middle schools. Our dream is to expand the program, add more students and more schools. Give the gift of the Madison Experience to more first-generation college students in JMU's community. Your donation can help:
Provide laptop computers to students
Supply t-shirts, back packs, notebooks and other school supplies
Sponsor a field trip to worlds unexplored: a local business, a very first college football game, a Civil War battlefield and more
Provide transportation to students to Valley Scholars sites
Bring in guest speakers
Help the endowed fund to make Valley Scholars a permanent program beyond its three pilot years
Provide local youth with the opportunity to go to college
You are the hope for our future Valley Scholars. Please give today.