Mission Statement
The JMU Dance Program cultivates citizen artists who are innovative critical thinkers with a broad range of creative and technical abilities.  Students will develop skills in choreography, performance, theory, professional practice, and leadership in an expansive liberal arts community.  
Overview
The James Madison University Dance Program is a place where young artists come to grow, be challenged, and join an inclusive artistic community. We offer a major in Dance with a rigorous curriculum that prepares students for a wide range of career paths. A career in "Dance" is a wide spectrum, and we work with each student to help define and shape their individual path. Our program is built on the premise that we work as a community:
To develop each student's abilities as a performer, choreographer, creator, collaborator, and movement instructor.
To provide an encouraging environment that nurtures confidence, creative and critical thought, and the development of each student's artistic voice.
To provide the tools and space to develop one's own path in dance
The Dance Major provides a challenging combination of liberal arts curriculum and an intensive study of dance with extensive performance and creative opportunities. Our coursework offers progressive levels of:
Modern and Ballet technique
Dance composition
Dance History
Performance production and management
Repertory ensemble experience
Teaching methods and Teaching Licensure
Other dance courses include Jazz, Tap, Ballroom, Improvisation, Dance in the Community, Latin Dance Styles, and Yoga, among many others.
What's Special About JMU Dance?
The dance faculty is passionate and dedicated.  We endeavor to create a positive and collaborative environment that is inclusive as well as responsive to the needs and goals of the 21st century dance artist. It is the goal of the faculty to empower each student to grow as a creative artist and person.
Students receive a BA degree with a major in Dance. We believe this has the potential to create innovative thinkers and well-informed artists who will contribute positively to the development of the art form and be productive members of society. Dance majors are graduating from JMU with invaluable skills that allow them to be successful in a wide variety of fields in today's job market.
JMU Dance is a place where 
you can create
the future in Dance 
you want for yourself.
Opportunities
Students at James Madison University are invited to become actively involved in Dance Program activities. The activities and performing ensembles of the JMU Dance Program are as follows:
Associate Group Dance Ensemble
All freshmen will be part of the Associate Group Dance Ensemble. The Associate Group meets for a modern techniques class and repertory rehearsal once a week of each semester and members receive credit and a grade. The Associate Group performs in the student concerts each semester and hosts one guest artist per year. In addition to performing, Associate members will have hands-on experience in technical theatre and other production duties. All members of Associate are required to be registered for a modern, ballet, or jazz technique class.

Contemporary Dance Ensemble
The Contemporary Dance Ensemble is comprised primarily of dance majors. The company provides members the opportunity to perform and choreograph for showcases, student concerts and main-stage concerts. The Ensemble hosts two professional guest choreographers per year. In addition, members work with faculty choreographers. The company meets as a whole once a week. However, rehearsals take place throughout the week. Members receive credit and a grade for their participation in the company. The Ensemble performs occasionally for elementary schools, high schools, conventions and festivals. Admittance into the company is by audition. This ensemble is a cornerstone for the dance major experience and produces the spring, main-stage concert.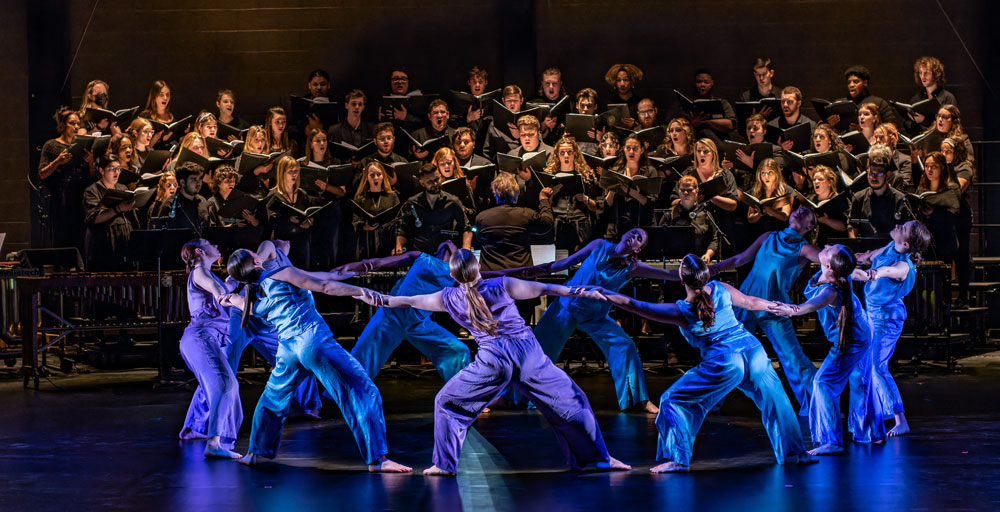 Virginia Repertory Dance Company
This pre-professional performing company is made up of selected dance majors who have a strong commitment to pursuing opportunities as performers, teachers and choreographers after graduation. Company members are selected through audition, and rehearse a minimum of 10 hours each week. The company performs the work of nationally known guest and faculty choreographers in one main-stage concert each year. It tours throughout Virginia and the region in a variety of performance arenas in the Spring. Only serious dance majors are asked to audition because of the depth of experience and commitment needed to participate in the Virginia Repertory Dance Company.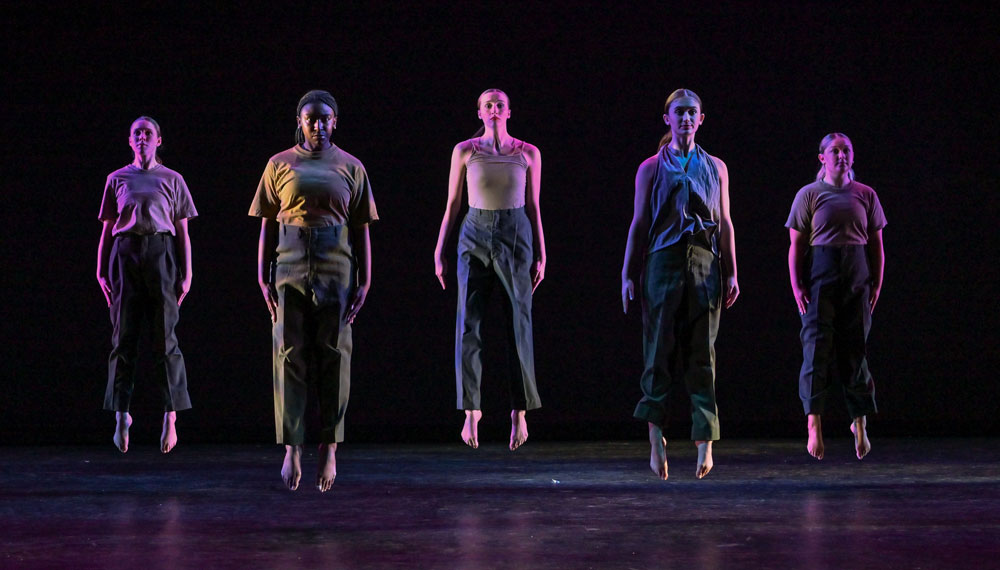 Other Performance Opportunities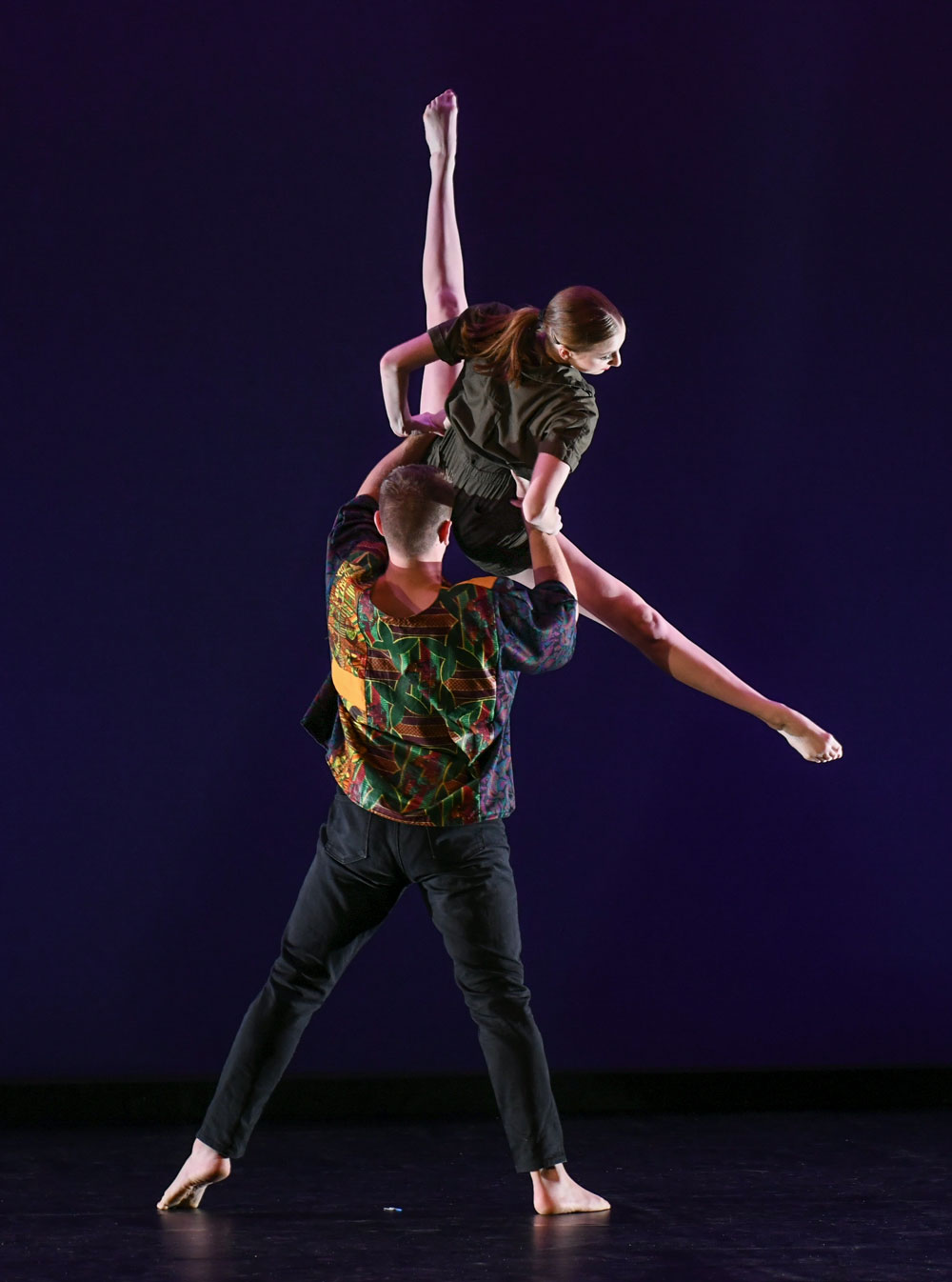 Each dance student at JMU can submit a work for audition into the Fall or Spring Student Concerts. Occasionally the Dance Program will bring guest choreographers to do special projects that will involve all majors. Many freshman and sophomore majors and minors find opportunities to dance in advanced major's works. Finally, faculty will choreograph other pieces to be performed in the annual Dance Day concert in the studio theatre.
JMU is consistently selected to perform in the gala concerts of the regional festivals of the American College Dance Festival and has been chosen to perform in recent National American College Dance Festivals.
Technical and Production Crews
There are three main-stage productions, four studio theatre concerts, and two studio showcase performances that require stage managers, light and sound technicians, and other production crew members. No experience is necessary. This is an excellent way to get involved with the Dance Program and to learn all aspects of producing a dance concert.
K-12 Dance Licensure
The Teaching Licensure in Dance program provides a specialized area of concentration in dance education. This teacher licensure program focuses on preparing university students with the skills and knowledge to become successful dance educators in the public schools, private institutions, or dance studios.  The dance education program includes strong content preparation for teaching in schools and communities, including: dance pedagogy, choreography, improvisation, dance history, technique, and performance production. The program promotes graduates who are: 1) professional dance educators; 2) articulate arts educators; and 3) reflective artists, teaching artists and scholars. The program supports the National Core Art Standards and the Virginia Standards of Learning for Dance Arts.
In order to obtain a Teaching Licensure in Dance, a student must be a dance major, but additionally, they must complete the required professional education courses, a school practicum placement, and two eight-week blocks of student teaching. Students complete licensure requirements simultaneously with their degree requirements.
For more information on dance licensure:
Dance Education Coordinator
School of Theatre and Dance
540 568-3924
mille2sm@jmu.edu